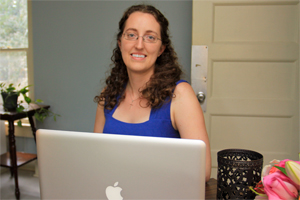 Tiffany Broadbent Beker
Office: Discovery 2
Email: [[tlbroa]]
Phone: (757) 221-3426
Twitter: {{http://twitter.com/tb623, @tb623}}
Presentations: {{http://www.slideshare.net/tiffanybroadbent}}
Blog: {{http://www.tiffanyb.net}}

About my background
I've always been a bit of a geek, from taking AP computer science courses in high school through majoring in Computer Science and minoring in Mathematics in college at the University of Richmond. I first had the opportunity to really explore my interest in web programming and design with an "Introduction to Dreamweaver" class my senior year of college in 2004. My pursuit of "web stuff" took a back burner for a year or so while I pursued my Master's degree (also in Computer Science) at William and Mary. In the winter of 2007, I heard about an opening for a student intern in the Information Technology Web and Learning Services department, intrigued and hearing great things from a fellow Computer Science grad student about the team there, I applied and was accepted for the job (thanks Andrew and Susan!). For the rest of the semester, full time over the summer, and all of the following year until graduation, I worked on W&M's homegrown web templates project including the web forms, calendar, and bug-fixes of various sorts.
When I graduated in 2006 I began working as a software engineer at a startup called SIPeerior Technologies with a team of a fellow William & Mary folks working on next generation Voice Over IP (VoIP) software that utilized Peer-to-Peer technology. Next I worked at Solertium Corporation as a web developer where I created and maintained dozens of websites for various clients on their open-source Content Management System ranging from large high-traffic sites like the IUCN Red List of Endangered Species to smaller, local sites like the Blue Talon Bistro and the Cheese Shop.
A familiar place
I was so excited when I was offered the opportunity to join back with the Creative Services (now University Web & Design) team in the summer of 2010 and now I work mainly on the technical side of things, helping to develop web applications of all kinds to support W&M's communication and marketing goals (including working with the main W&M website, Social Stream, the Dress the Griffin iOS and Android app, W&M Events, and Ampersandbox). I also head up W&M's Social Media User's Group and help to coordinate our social media efforts on campus.
In addition, I have presented at conferences including HighEdWeb, CASE Social Media And Community, edUi and the College Communicators Association, as well as served as a social media resource and presenter for offices and student organizations across campus. I serve as advisory chair for Alpha Phi Omega, Nu Rho and am on the board of advisors for the W&M chapter of Camp Kesem, am a co-chair of the W&M Women's Network and serve as a senator for the W&M Staff Assembly.
Non-technical info
On the non-technical side of things I am a "cat-person", I love traveling (near, far, anywhere), food (cooking it, eating it, taking pictures of it when no one is looking) and photography (visit my Flickr page to check out my photos). I also attempt to frequently update my personal blog chronicling my travels, joys (and sometimes not so joys) of owning a house, cooking experiments and any other random thoughts that happen to make their way onto the web.