Summer Sankofa Series 2022
Lemon Project Genealogy Initiative Presents the Summer Sankofa Series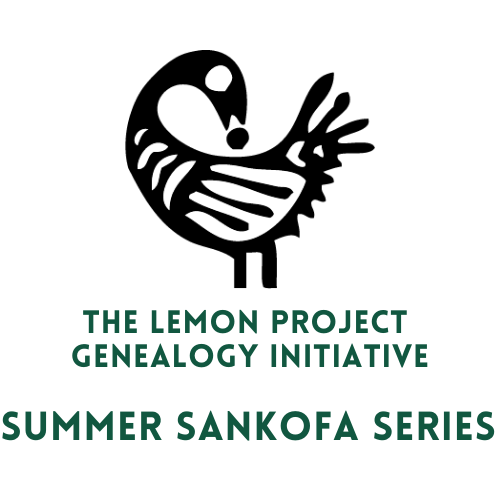 Are you ready to dive deeper into your family history? Well, we invite you to join us for our summer genealogy workshops! The Summer Sankofa Series is an opportunity for family historians to collaborate and learn more about genealogy research.  
If you've participated in our recent genealogy workshops, you'll be ready to join a community of genealogists dedicated to documenting and sharing their stories in an open forum. Together, in the spirit of Sankofa, we are connecting the past and present as we seek to know more about the lives of our ancestors.  
The Lemon Project Genealogy Research Initiative provides family history research workshops and consultations to our descendant community in Williamsburg and the Greater Tidewater area. The continuing education workshops are free to the public and held virtually due to COVID-19 health restrictions. 
The Lemon Project fellow is conducting specific research on enslaved people with ties to William and Mary. Many known and unknown African Americans helped build, maintain, and move the university forward – we want to ensure their stories and lives are never forgotten.
Summer Sankofa Series Geneaology Workshop with Nicka Sewell-Smith- Register here.
June 9, 2022 at 6 pm ET
Join the Lemon Project Geneaology Initiative's Summer Sankofa Series for a workshop by professional genealogist Nicka Sewell-Smith on June 9 at 6 pm ET.

Nicka Smith is a professional photographer, speaker, host, consultant, and documentarian with more than 20 years of experience as a genealogist. She has extensive experience in African ancestored genealogy, reverse genealogy, and is expert in genealogical research in the Northeastern Louisiana area, and researching enslaved communities.

Nicka has diverse and varied experience in media with a background in audio, video, and written communications. She's appeared on TODAY Show, CNN, MSNBC, on the series Who Do You Think You Are and has been interviewed by Oakland Tribune, The Undefeated, National Geographic, and TIME. She is the host of BlackProGen LIVE, an innovative web show with more than 125 episodes focused on people of color genealogy and family history.

She is a citizen of the Cherokee Nation of Oklahoma, a member of two lineage societies (Sons and Daughters of the Middle Passage (SDUSMP), National Society of Daughters of the American Revolution (DAR)), and a past board member of the California Genealogical Society (CGS) and the African American Genealogical Society of Northern California (AAGSNC). Nicka served as the chair of the Outreach and Education Committee for AAGSNC, and is the former project manager for the Alameda County, CA Youth Ancestral Project where more than 325 youth were taught the value of family history.

Additionally, Nicka is the family historian and lead researcher for the Atlas family of Lake Providence, East Carroll, Louisiana and guides and coaches an active group of family historians at the Who is Nicka Smith Patreon community.

In 2009, Nicka launched ns2 photography following years spent as a happenstance photographer for the publications she worked on in high school and college. She utilizes a journalistic style while capturing high school seniors and weddings. Nicka's work has been featured on The Africa Channel, Scrubs Magazine, The Bride's Cafe, and The Oakland Post.
Summer Sankofa Series Geneaology Workshop with Bessida Cauthorne White- Register here.
July 14, 2022 at 6 pm ET
Join the Lemon Project's Geneaology Research Initiative for a workshop with Bessida Cauthorne White on July 14 at 6 pm. Check out this Richmond Free Press feature for more information about Bessida Cauthorne White.
Summer Sankofa Series 2021
June 15 at 5:30 pm, 2021 – Lisa Crawley and Hannah Scruggs, National Museum of African American History, Explore Your Family History Center
Records of Intrigue

Using a case of "Reverse Genealogy" the story of an enslaved woman will be explored from a record randomly found in the Freedman's Bank collection. Born around the turn of the 19th century, this story traces a spinner and weaver from the Upper South who loses children during slavery and the Civil War, and survives to see Emancipation and secure an account with the Freedman's Bank.
Week Following – Genealogy Show & Tell – We will have a brief opening on Black Laws of Virginia and proceed to our discussion and sharing. Friday evening, June 25 at 6 pm 
July 13, 2021 at 5:30 pm – Renate Yarborough Sanders – 
Researching Enslaved Ancestors

Slave ancestral research can be very challenging, but it's not impossible! In this workshop, the presenter shares and models best practices and methodology for finding and researching enslaved ancestors. Participants will learn to extract data about the enslaved from records of slave-owning communities, using web-based and in-person resources. 
Week Following – Genealogy Show & Tell – A brief opening on WPA Slave Narratives or African American Historic Newspapers -Friday evening, July 23, at 6 pm
August 12, 2021 at 5:30 pm – Andre Taylor, Oral History for the Family Historian

Documenting the memories of your ancestors is vital in genealogy research. Join us if you're interested in learning about how to do oral history interviews. You'll learn simple techniques on how to preserve your family history for future generations.