"An American Prima Donna and Apple-Pie Opera"
Presented by Katherine K. Preston, David N. and Margaret C. Bottoms Professor of Music

April 22, 2015 in the 

Kimball Theatre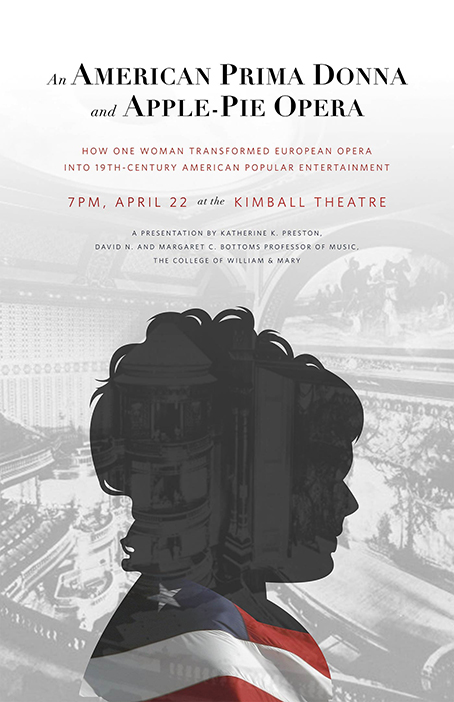 Most Americans of the twenty-first century think of opera as musical theatre for snobs: expensive, exclusive, elite. But in the 1880s some American singers successfully fought this image by presenting English-language opera as popular theatre. Emma Abbott, a native of Peoria, IL, was the most successful. Trained in Italy, she returned home to sing in English because, as she said, "that's what the people want.' Known as 'the people's prima donna,' she was the nineteenth-century equivalent of a rock star.
Musicologist Katherine K. Preston is the David N. and Margaret C. Bottoms Professor of Music. Her scholarship examines the country's rich musical heritage, particularly the role of music in the lives of nineteenth-century Americans. She has published three books and three editions, including George Bristow's Symphony No. 2 (Jullien Symphony). Preston has been at William & Mary since 1989, served as chair of the Department of Music from 2000 to 2007, and is the recipient of the 2012 Plumeri Award for Faculty Excellence. She has also been a Fulbright Senior Scholar and has had major fellowships from the National Humanities Center and the National Endowment for the Humanities.