"The World that Panics Made"
Presented by Scott Reynolds Nelson, Legum Professor of History

April 17, 2014 in the 

Kimball Theatre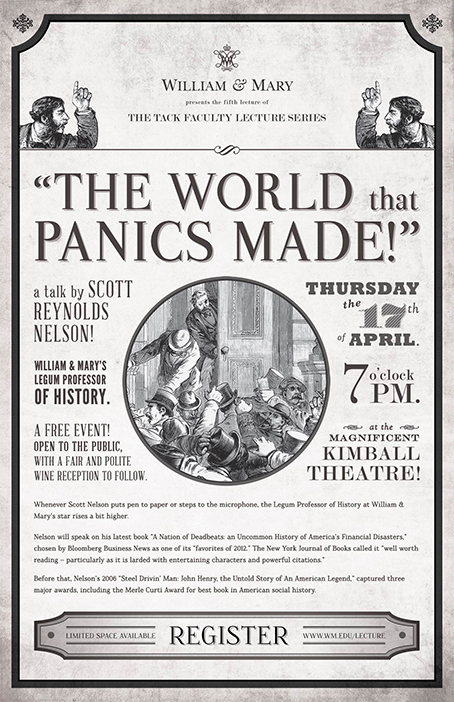 When did America see a complex chain of debt linking risky consumer loans with fragile banks? That was 2008, but it was also 1819, 1837, 1857, and 1893. Legum Professor of History Scott Reynolds Nelson will show how America's history has been filled with stories about failing loans, broken banks, fractured families, and partisan finger pointing. He'll outline what panics are, how to predict them, and how they have radically reshaped American politics.
Nelson is the author of five books on 19th-century America. The New York Times has called him a "fascinating guide to the grim landscape of Reconstruction." Steel Drivin' Man, about the legendary John Henry, won four national awards. A young-adult book he co-wrote with Marc Aronson, Ain't Nothing But a Man, won seven national awards, including the Aesop prize for best book in American Folklore. His latest is A Nation of Deadbeats: An Uncommon History of America's Financial Disasters.