"Finding Faults in Old Virginia"
Presented by Chuck Bailey, Chair & Professor of Geology

April 17, 2013 in the Kimball Theatre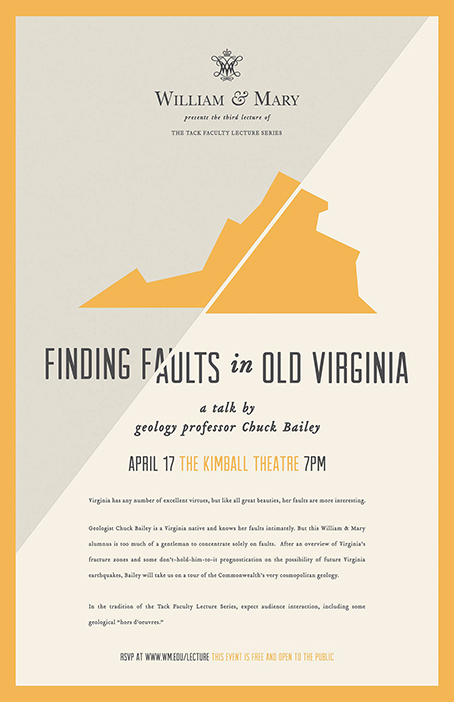 Virginia has any number of excellent virtues, but like all great beauties, her faults are more interesting. You don't always have to look for Virginia's faults; sometimes they find you.
Remember the earthquake of August, 2011? The quake caused landslides 150 miles from its epicenter north of Richmond and was felt as far away as maritime Canada. The 5.8-magnitude earthquake caused nearly $200-$300 million in damage—including cracking the Washington Monument badly enough so that it's still out of commission.
Geologist Chuck Bailey is a Virginia native and knows her faults intimately. But this William & Mary alumnus is too much of a gentleman to concentrate solely on faults. After an overview of Virginia's fracture zones and some don't-hold-him-to-it prognostication on the possibility of future Virginia earthquakes, Bailey will take us on a tour of the Commonwealth's very cosmopolitan geology.
He'll tell us about parts of Virginia that originated in South America and what bits came from Africa. There's an interesting area west of Richmond that Bailey has determined has come down from at least as far north as Boston.
Bailey will tell us how he knows all these things—and how undergraduate researchers helped find them out. In the tradition of the Tack Faculty Lecture Series, expect audience interaction, including some geological"hors d'oeuvres."