"From Plankton to Planet"
Presented by Deborah K. Steinberg, Professor of Marine Science

October 29, 2013 in the Kimball Theatre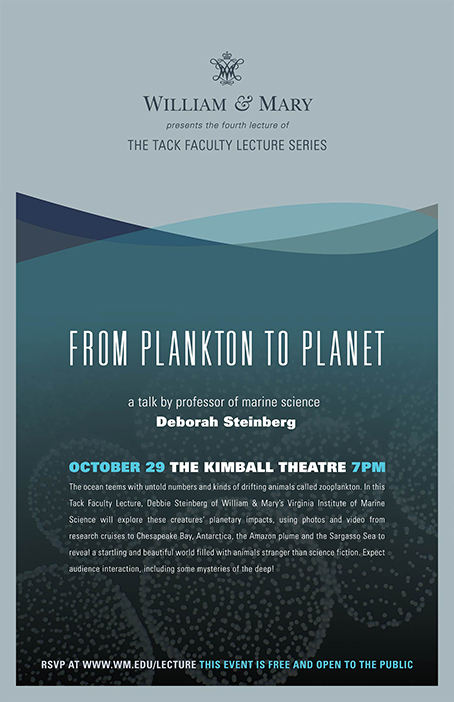 The ocean teems with untold numbers and kinds of tiny animals called zooplankton. They feed the fishes that feed us, graze the microscopic algae that produce most of our oxygen, and might even help reduce global warming by releasing what marine scientists gingerly call "fecal pellets."
But despite their fundamental importance to ocean food webs and the global carbon cycle, zooplankton in many ways remain a mystery—creatures whose small size, fragile bodies, and remote habitats make them notoriously difficult to study.
Professor Deborah Steinberg of William & Mary's Virginia Institute of Marine Science has been studying the mysteries of zooplankton for more than 25 years—since her first research cruise to Antarctica in 1987—and will share her most recent discoveries with audience members during the Fall 2013 Tack Faculty Lecture Series on October 29 at the Kimball Theater in Williamsburg.
Steinberg will bring audience members on a virtual voyage from the coastal zone to the open ocean, using photos and video from research cruises to Chesapeake Bay, the Antarctic Peninsula, the Amazon plume, and the Sargasso Sea to reveal a startling and beautiful world filled with animals stranger than science fiction. Included are floating, shell-free snails; jelly-like creatures bigger than humans; and the young of larger, more familiar animals such as crustaceans, fish, and eels.
She will also bring attendees far beneath the surface, with tales of deep-sea creatures that make their own light, and of zooplankton the size of a rice grain that swim from the deep thousands of feet up to the surface each day for food—a daily migration that rivals the great seasonal movements of caribou.
Steinberg will describe how she and her crew collect zooplankton, using everything from mechanical nets to robotic subs—and how undergraduate and graduate researchers from W&M help out in the lab and field. In the tradition of the Tack Faculty Lecture Series, expect audience interaction, including some mysteries of the deep!