First history of African Americans at W&M published
William & Mary is celebrating another first: the first book devoted to the history and contributions of African Americans at the university.
"Building on the Legacy: African Americans at William & Mary," an illustrated history, was written by Jacquelyn McLendon, professor of English, emerita. McLendon chaired the committee responsible for the 50th Commemoration of the First African American Students in Residence during the 2017-2018 school year.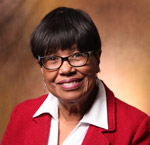 "It was definitely a labor of love," she said. "It was an amazing experience, one of the best in my life. My only disappointment was that I couldn't include everybody."
McLendon will be signing the book from 10 a.m. to 3 p.m. on Saturday, Oct. 19, in the main lobby of the Sadler Center. The book, published this month, is also available online and at the W&M Bookstore.
Talking with students and alumni during the early stages of planning for the 50th anniversary, McLendon said she heard over and over again that community members wanted a few things from the commemoration: a history of African-American experiences at William & Mary, a welcoming and coming-home for African Americans and an effort that extended beyond the year's events. Meanwhile, she was gathering untold stories from across campus.
"This book is not about black people as victims," McLendon said. "Some of the stories are told in terms of some of the hardships and challenges, but the book mainly shows the contributions black people have made to William & Mary. We have contributed to better the place, and that's what people need to know. We give to this university, and we belong here. That was an essential, driving force for me, finding those stories."
The book features a foreword by former University Archivist Kimberly Sims and a prologue on slavery at William & Mary penned by Jody Allen, director of the Lemon Project and assistant professor of history.
McLendon includes a chapter on desegregating higher education in Virginia, featuring profiles on William & Mary's "first families," including the three generations of Willises that have graduated from W&M. Hulon L. Willis Sr. became William & Mary's first African-American student when he enrolled in a summer graduate program in education in 1951.
Organized chronologically, McLendon explores the gradual advancement of black people at the university along with information about the first undergraduate African-American students in residence, who arrived in 1967 and have since become known as the "Legacy Three."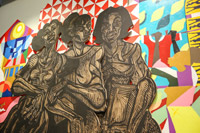 She also tracks the history of African Americans among the faculty and in administrative leadership roles at William & Mary.
But she didn't stop at the boundary markers of the school. Instead, there is an entire chapter devoted to placing black people at W&M in context within Williamsburg, including noting the support that early black students received from residents and businesses on the "other side" of Richmond Road and on Braxton Court.
"It was really important to acknowledge that we've had this relationship," McLendon said. She also features in this section Charles Henry "Doc" Billups Jr., bell ringer and caretaker of the Wren Building, who worked for William & Mary from 1888 until 1955.
The project, McLendon said, was approved by then-Provost Michael R. Halleran, whose office financially and editorially backed the book. The epilogue consists of three essays on inclusion that extend the history beyond the experience of African Americans, written by Anthropology Lecturer Danielle Moretti-Langholtz, director of W&M's American Indian Resource Center; John Riofrio, Hispanic studies associate professor; and Francis Tanglao Aguas, theatre and Asian and Pacific Islander American studies professor.
McLendon had additional support throughout the university, specifically in Swem's Special Collections and from W&M Chief Diversity Officer Chon Glover, who helped identify sources.
"Since coming to William & Mary, meeting people and learning of the significant history of African Americans through conversations with alumni, fellow colleagues and the community, I've always wanted a way to capture and preserve that legacy so that it could make the university's rich history more inclusive," Glover said. "When Dr. McLendon decided to write the book, I was beyond elated. I wanted this history to move from the customary tradition of oral stories.
"This book is so meaningful. Although difficult and hurtful experiences have been at the forefront of many of the experiences of African-American students, faculty and staff, I do hope that seeing the positive evolution of change that has occurred will instill a sense of pride for all who read it."
McLendon said she also enjoyed enormous support from sources, some of whom went to extraordinary lengths to provide photographs and materials to her. The family of Miriam Carter, who became the first African-American woman to attend W&M when she joined the law school in 1955, opened the doors of its Newport News business to McLendon and Swem researchers. Two of Carter's grandchildren — Dianne de Mayo (Carter) '88 and James Andrew Carter II, J.D. '98 —graduated from William & Mary.
The family owns Carter Funeral Home, Denbigh Chapel in Newport News, and invited McLendon, along with Swem researchers, to gather old family photographs off the walls of the family business, entrusting them to treat them well in scanning and to return them.
The Carters' trust was just one example of the cooperation people displayed during McLendon's research. Other families graciously invited McLendon and William & Mary photographers into their homes, notably the Braxtons; Jean Stewart, whose father, Lisbon Gerst, built the Sunken Garden; and the Curtises, family of master silversmith James Ashton Curtis.
"People really felt they wanted the stories told and were willing to help tell them," she said. "Despite some of the challenges they've gone through, they have a deep love for William & Mary, and they want people to know that."