Kathryn H. Floyd '05 selected to lead W&M's Whole of Government Center of Excellence
Kathryn "Kay" H. Floyd '05 has been selected to lead William & Mary's Whole of Government Center of Excellence, which provides interagency training, research and other collaborative opportunities to government and military leaders around national security and other public policy issues.
In her role as director, Floyd is responsible for growing the center, building relationships with national and community partners and working with W&M faculty and administrators to develop a research program and national security curriculum, including an online component, over the next three years.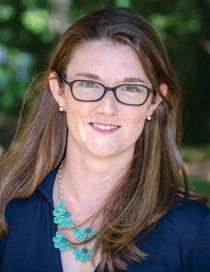 "From the Battle of Yorktown to today's complex cyber operations, a need has emerged to train the men and women who will be at the decision-making helm of national and state security agencies," said Floyd. "W&M is uniquely positioned, literally and physically, to educate tomorrow's great leaders. It is an honor to be entrusted with directing this revolutionary combination of classroom learning and real world acculturation so we can better tackle complex national security challenges."
As the university-wide center begins operations, students from W&M's graduate degree programs are invited to participate in supplemental opportunities related to national security, including the 2019 Whole of Government Workshop Series.
Additionally, students in the Center of Excellence have the opportunity to receive mentorship, hear lectures from high-ranking government officials and participate in symposia and national security exercises. For instance, last April, the center hosted its inaugural National Security Conference, featuring remarks by Robert M. Gates '65, L.H.D. '98, W&M chancellor and former U.S. defense secretary; Russell Travers '78, then-acting director of the National Counterterrorism Center; and Carlos Hopkins, Virginia secretary of veterans and defense affairs, among others.
Students with the Center of Excellence also have the chance to directly experience national security and interagency policies — all with a holistic lens, while considering multiple agency viewpoints by observing parts of the State Department's Advance Tactics, Leadership and Skills (ATLaS) course and Operation Deep Port, among others.
The idea for the center came from the VA Commission on Military Installations and Defense Activities in May 2015. Former Virginia Gov. Terry McAuliffe and John Harvey, who at the time served as the state's secretary of veterans and defense affairs, brought the idea to W&M. Because of W&M's size and proximity to multiple military bases as well as Washington, D.C., the two thought that the university would be ideal for such a center.
The university received a grant from the commonwealth to conduct a feasibility study in 2016 under the leadership of Steve Hanson, W&M vice provost for international affairs and director of the Reves Center for International Studies. Hanson worked with Floyd and The Roosevelt Group to conduct the study, gathering information from military, civilian and university leaders. The first cohort in the program began in the fall of 2017.
"It is truly exciting to work in close collaboration with W&M's military partners, the Commonwealth of Virginia leadership, colleagues in multiple federal agencies, and local stakeholders to set up a Center of Excellence devoted to promoting Whole of Government approaches to national security," Hanson said.  "I'm particularly pleased that Kay Floyd has agreed to lead our efforts in this area, given her unique combination of intellectual insight about U.S. national security, deep familiarity with the interagency process, and devotion to her alma mater."
Floyd, who also serves as the director of the W&M Global Research Institute's e-internship program, was previously the project director for the Whole of Government Center of Excellence. She has also taught in W&M's Department of Government, leading classes on terrorism and national security and conducting research on the development of people who become radicalized.
She also serves as the mass violence and terrorism visiting fellow for the U.S. Department of Justice, working on emergency planning and recovery, and was deeply involved with developing a new, national active shooter response program, NFPA 3000 (PS): Standard for an Active Shooter/Hostile Event Response (ASHER) Program.
The founder of an international consultancy for strategic communications, events and foreign policy issues, Floyd has also served with the International Institute for Strategic Studies, and she received a certificate of appreciation for her work with Multi-National Force-Iraq.
Floyd received her undergraduate degree in government from William & Mary before earning a master's degree in war studies from King's College London. She went on to receive her doctorate from the S. Rajaratnam School of International Studies at Nanyang Technological University in Singapore, where she also worked with the International Centre for Political Violence and Terrorism Research.
Her connection to King's College London led to W&M's involvement in the Georgian Papers Programme through the Omohundro Institute of Early American History & Culture. The program is partnership between the two schools plus the British Royal Archives and Royal Library to digitize and release by 2020 more than 350,000 documents related to British royalty in the 18th and 19th centuries.
Floyd may also be a familiar face to those in the W&M community who are not involved in public policy or history. She helped narrate the live-streamed videos for both the university's homecoming parades from 2015 to 2018 and the 2019 Charter Day & Inauguration ceremony.
Next month, students and the general public are invited to attend the 2019 Annual Conference: "National Security Today through 2028: Women Leading the Next Decade," with keynote address by Nadia Schadlow, former deputy national security advisor. This will be held on April 4, 2019, from 8 a.m. until noon in the Sadler Center. To learn more or RSVP, email wmcoe@wm.edu.