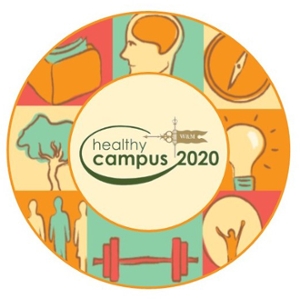 The Healthy Campus Coalition is a group of students and professionals working together to enhance the overall health of the William & Mary community.
In the Healthy Campus 2020 initiative, the coalition worked towards goals (pdf) adapted from a national effort to promote health across all college campuses.
The HC2020 Coalition at W&M comes together to share information about health-promoting events on campus, share thoughts on data and campus trends, and plan projects (events, programs, media campaigns, websites, and activities) that advance the goals the coalition has outlined.
The coalition acknowledges that there are many efforts around campus that promote health. Mini-grants are available to groups who have programs, projects and initiatives that expand the coalition's reach and support the great work that is being done across campus.  We intend to sponsor projects on campus that help advance the goals of the coalition. 
awards
Awards
On October 6, 2016, William & Mary's Division of Student Affairs was awarded the Williamsburg Health Foundation's Annual Award, given for our "work to create an integrated, comprehensive system of wellness programs for students and all campus community members". Learn More in our video and press release.