From the Director
Dr. Teresa Longo, Executive Director of the Reves Center for International Studies
This edition of World Minded showcases the joyful homecoming of a group of alumni, graduates of the classes of 1993 and 1994, who came together in-person after eighteen months of pandemic distancing to celebrate lasting friendships and to discuss international careers. The expertise of the group ranges from urban tree science to international education, from international development to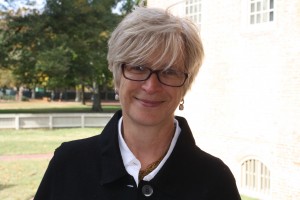 military service. The locations where the panelists have lived and worked include Afghanistan, Bosnia, Burkina Faso, China, Germany and Kosovo. Most remarkably, these accomplished alumni trace their trajectories back to the Reves Center for International Studies. Reves has changed since the panelists lived and studied here in the 1990s, yet the key opportunities--international research, global education, living and working in an international community-- resonate now.
Speaking to an audience of W&M alumni, students, faculty and staff, Ken Beare, Claire Ehmann, Chai-Shian Kua, Ducie Le and Jonathan Noble discussed their own international career trajectories. They also discussed the changing nature of work, asking the audience to consider such practical questions as what should our buildings be for, what should telework accomplish, and what essentially, is the future of work? Like the panelists, at Reves we approach the everyday work of global engagement, global education and international community enrichment with optimism and joy. Reves' near and long-term future is one of building and deepening partnerships around the world for the sake of research, education and community.
Like many at W&M, the Reves' homecoming panelists share an enduring commitment to service. With careers in government, education and at various NGOs, they are working to build a better world and along the way, inspiring W&M students to join them. In this edition of World Minded, you will find signs of a similar service commitment-- in Reves' work on Sustainability Abroad (p. 14), in the Project Global Officer grant for military-friendly and veteran-friendly education (p. 12), in the selection of W&M students as Harriman World Fellows (p. 24), and in the new Study Abroad scholarship in honor of Gen. Colin Powell's lifetime of service (p. 10).
Reves' homecoming panelists referred to W&M as a community defined by a generosity of time and intellect. As you explore World Minded, notice how the concepts-- intellect, time and community-- materialize in the work we do. When doctoral student Yijie Zou researches the Chinese entrepreneurial community in Ghana, his work sheds light on typically overlooked international relationships (p. 32). When undergraduate students Sumie Yotsukura and Brian Zhao study the history of the first W&M students of Asian ancestry, they also honor the current community (p. 20). When LL.M. graduate Rizgin Dolma applies her W&M legal training, she contributes to the justice system at home in Tibet (p. 18). And as you read, I hope you will see the extent to which time, intellect, generosity and a commitment to community ultimately shape student careers and perhaps, structure the very future of work.