WMGIC & NATO Countering Disinformation Challenge 2022: Partnering to Change the World
"This is serious work at a serious moment."
Teresa Longo, Associate Provost for International Affairs and Executive Director of the Reves Center, set the tone for the day in her introductory remarks.
On October 21, 2022, the Reves Center was headquarters for the William & Mary's Global Innovation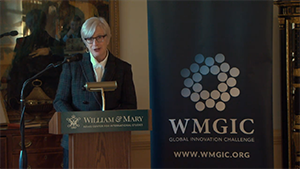 Challenge (WMGIC) x North Atlantic Treaty Organization (NATO) Countering Disinformation Challenge. More than 400 students from across the NATO Alliance and Partner Nations participated in his historic competition. This was the second year of the challenge, and the interest in combatting disinformation across NATO countries was even more pressing, not just because of Russia's invasion of Ukraine.
"The aim of disinformation is not to convince anyone; it is to confuse you to divide you, to ultimately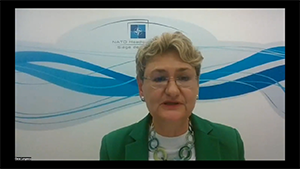 make you unable to take decisions, and to make us unable to take decisions together. That's why it's really important that we are all working together against it," NATO Spokesperson Oana Lungescu explained. "This is not just about us at NATO HQ. It's about everybody, and it refers to disinformation from Russia but also from China, and from state and non-state actors.  We now see a worrying convergence between disinformation from Russia and China but also between anti-vaxxers, for instance, and those who oppose Ukraine's rights to defend itself."
Everyone – from opening and closing speakers to the participants – understood and focused on the urgency of harnessing WMGIC's approach to bear on current issues.
General Philip M. Breedlove (USAF, Ret.), Former Commander, Supreme Allied Command, Europe, SHAPE, Belgium and Headquarters, U.S. European Command, Stuttgart, Germany, delivered the Keynote Address, "Countering Disinformation: Russia's Hybrid War and the Information Battlefield." Breedlove had visited Ukraine just before the invasion. "I am pleased that you are looking at this important task of countering disinformation – of hybrid or grey war…. I'm really proud of what you're doing, and I'm really looking forward to hearing your ideas. And more importantly, I hope what we will see is our nations' putting your ideas into practice."
In her opening address, Baiba Braže, Assistant Secretary General for Public Diplomacy, NATO, remarked that she also was looking forward to the teams' "very creative but also very rational results."
She went on to give the students their mantle: "All our futures, as individuals as well as societies, but also of the Alliance, are very much in your hands. You are the future of NATO."

Building on previous success
The William & Mary Global Innovation Challenge (WMGIC) is a student-led organization that hosts premier case competitions. These events champion interdisciplinary collaboration and mobilize young adults to tackle global issues. Established in 2017, WMGIC provides undergraduate students worldwide a platform for open collaboration and discussion with peers, faculty, and knowledgeable professionals to analyze and create sustainable and scalable solutions. The competition increases students' knowledge about the case study, design thinking, holistic sustainability, innovative processes, and policy entrepreneurship. The WMGIC philosophy is that students have creative perspectives on important issues, and the challenges are a chance to showcase their ideas. When the first William & Mary's Global Innovation Challenge (WMGIC) x North Atlantic Treaty Organization (NATO) Allied Command Transformation (ACT) Cybersecurity Challenge was held in November 2021, the organizers and participants were thrilled that 56 teams from 52 universities competed in 7 streams. It was the largest challenge WMGIC had hosted and the first time WMGIC had partnered with Whole of Government Center of Excellence and NATO ACT. Despite the months of planning and preparation, no one knew if it would attract a diverse group of participants, and if NATO ACT would find the partnership of value.
However, the response was so positive and the projects so innovative, that planning for the next year
started almost as soon as the hotwash was completed.
But as always with a successful debut comes the worry that it cannot be maintained, much less topped.   Also, because WMGIC is a case competition hosted by undergraduate students there is turnover in leadership as seniors graduate and freshmen join.
In 2022, could they maintain the high standards and numbers of teams?
Well, the WMGIC x NATO Countering Disinformation Challenge 2022 exceeded expectations in every possible way. Participants numbered in the four hundreds, with more than 100 registered teams of students across 9 streams from more than 50 universities from 13 NATO partners countries participating– from Romania to Columbia; Turkey to the U.S. (William & Mary had a team, NATO Your Business, which was part of the Foxtrot Stream.)
Teams were assigned one of seven topics: Russia-Ukraine War; Public Health; Climate Change: Clean Energy; Climate Change: Climate Security; Artificial Intelligence; Gender-Based Violence; and Terrorism.
They received their case competition briefing document several days prior to the event.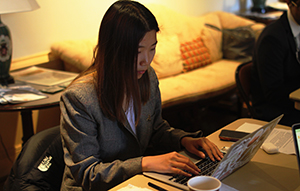 For seven hours, the undergraduate student teams worked with mentors to refine their presentations addressing counter disinformation in one of seven realms, each competing to develop the most comprehensive and innovative – as well as practical and achievable – solutions. Each plan of action needed to consider NATO's existing capacity and the actions NATO should implement within the next 12 months.
The thirty-nine mentors and judges represented a wide variety of backgrounds and experience in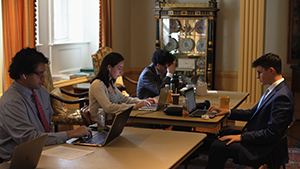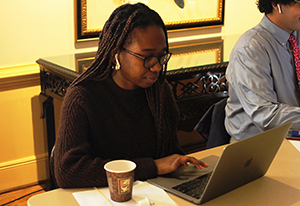 government, industry, academia, and other disciplines.
Mentors rotated through several university teams to give expert advice, offer feedback, and answer questions. Judges evaluated the presentations on the following criteria: feasibility & effectiveness, creativity, privacy, sustainability, and fiscal pragmatism.
The panels of judges evaluated the proposals and selected one winning team from each stream for a total of nine winners, who received $500 each. The winners were announced at the conclusion of the Challenge via a live Zoom event/webinar.  The team solutions will be published by NATO in the spring.
Competition Winners
ALPHA STREAM: University of North Georgia - University of North Georgia, United States of America
BRAVO STREAM: Javelin - King's College London - UK
CHARLIE STREAM: NSF Team - University of Alberta - Canada
DELTA STREAM: Dukes for Defense - James Madison University - United States of America
ECHO STREAM: VU-Waseda Team - Vrije Universiteit Amsterdam - Netherlands and Germany
FOXTROT STREAM: Enssat - ENSSAT Lannion - France
GOLF STREAM: ICP FOR NATO - Institut Catholique de Paris - France
HOTEL STREAM: RMCC - Royal Military College of Canada - Canada
INDIA STREAM: Not NAFO - George Mason University - United States of America
All presentations are available online.
Collaborating for a hopeful future
The intensity of the challenge--working together and competing in a set amount of time across time zones and international boundaries, with influential mentors and judges you have never encountered –makes for an exhilarating day. But Longo had put the day's excitement into a larger context as she addressed the student teams, mentors, judges and sponsors.
"The [WMGIC student team members] have been mentored by the director of our Whole of Government Center of Excellence and supported by the Reves Staff. As a result of their education at the university, they are prepared for the work," Longo said. "I believe this is also true for all of you who are in the competition--one where collaboration is key. Collaboration means that you will learn from each other and from your mentors.  All of this is possible because of the collaboration of the university and NATO headquarters' public diplomacy team. We are building a transnational partnership that looks to the future and to the role of all of you will play in a peaceful world."
The students approached the collaboration and potential will the same note of optimism, sensitive to both their mission and their mandate.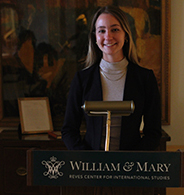 "As the world increasingly looks towards technology for solutions to global challenges, understanding the dangers it poses is crucial." said Sophie Workinger, WMGIC director of operations & development. "By uniting not only undergraduates, but also mentors and judges, this challenge helps bridge the gap between students and professionals. I am incredibly proud of the WMGIC team for breaking world records with this monumental event, and I am looking forward to continuing WMGIC's goal of amplifying the voices of the next generation of creative problem solvers."
Oana said, "We are all in a way information defenders and information warriors. NATO is here to defend our right to live as we would wish -- to our freedom our democracy our values -- and I'm really energized by the fact that you are all NATO ambassadors. I really count on you to continue doing this work for your future but also for all of us."
One of last year's opening speakers, Kathleen T. Jabs, then-Acting Secretary of Veterans and Defense Affairs for the Commonwealth of Virginia, has in the intervening year has become William & Mary's Special Assistant for Military & Veteran Affairs. In 2021 she delivered her opening comments remotely via Zoom, but this year, in her new role, she was able to deliver her remarks at the closing session in person in the Reves Room.
"We are so proud at William & Mary to host this event where we have an opportunity to encourage students to think boldly and act humanely… a powerful example of what happens when you harness intellectual energy to confront the most pressing issues of our times."
Jabs continued, "The presentations I listened to were compelling and rigorous and left me full of hope and optimism that the students here now in this room and around the world will continue to partner to change the world." 
---
This event was organized by the W&M Global Innovation Challenge and the North Atlantic Treaty Organization, with support from the DisinfoLab, Whole of Government Center of Excellence, Reves Center for International Studies, and William & Mary Law School. W&M thanks the American Academy of Diplomacy for its assistance.
The videos of the winning presentations as well as the opening and closing remarks are online.
All aspects of the challenge, including all student pitches, are published by NATO's Cooperative Cyber Defence Centre of Excellence.