William & Mary reaffirms and strengthens its support for DACA and undocumented students
Drew Stelljes to lead new university advisory council
William & Mary has launched a new council to support and address the needs of current Deferred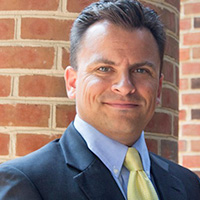 Action for Childhood Arrivals program students (DACA), undocumented students and potential applicants. The DACA/Undocumented Advisory and Support Council, led by Andrew D. Stelljes Ph.D. '07, assistant vice president for student engagement & leadership, will serve as the new hub for resources and advocacy.
"The new council represents our shared commitment to our DACA and undocumented students. As the Biden Administration issued an Executive Order on Jan. 20 — Preserving and Fortifying Deferred Action for Childhood Arrivals (DACA)  — the creation of this new council will enhance the ability of the university community to be current on national as well as state developments on the law and changing requirements as well as opportunities," said Stelljes.
Stelljes' new role dovetails perfectly with his experience on the Advisory Board of the Dream Project, a non-profit based in Arlington, Virginia, that empowers students whose immigration status creates barriers to higher education by working with them to succeed in college through scholarships, mentoring, family engagement and advocacy.
"For many years, Drew Stelljes has been a stalwart ally and effective advocate for DACA and undocumented students in Virginia," Jane Powell '85, Dream Project vice chair, confirmed. "Throughout his tenure, Dr. Stelljes has welcomed and encouraged Dream Project students to participate in his leadership classes and workshops as well as the Leadership by Design summer program that he leads at William & Mary. Both our students and the organization as a whole share in tremendous gratitude for his unwavering guidance, participation and impact on the entire Dream Project community." 
In his current position at William & Mary, Stelljes provides leadership and vision for four departments that all support student involvement, engagement, learning, leadership and personal development. Stelljes holds teaching appointments in the School of Education and the Department of Public Policy.
Stelljes was selected as an inaugural member of the Engagement Academy for University Leaders. He has held an executive board seat on a variety of local non-profits and on the Governor's Advisory for National and Community Service where he chaired the annual selection process for statewide AmeriCorps funding. Stelljes is the faculty member for the DC Office Summer Institute on Leadership and Community Engagement, and he teaches the class "Urban Education: Policy, Practice and Leadership" through the W&M Washington Center. Stelljes is the administrative advisor to William & Mary's FGLI Team consisting of staff and faculty dedicated to supporting first-generation, low-income students. Stelljes is also Chair of the FGLI Advisory Council.
The W&M DACA/Undocumented Advisory and Support Council
Stelljes has assembled an initial core group of university faculty, staff and students, who have both expertise in relevant areas and a commitment to the goals of the council:
Professors
Jennifer Bickham-Mendez (Sociology)
Katherine Barko-Alva (ESL/Bilingual Education, School of Education)
Stacy Kern-Scheerer (Professor of the Practice of Law, W&M Law School, and Director, Immigration Clinic)
John Riofrio (Hispanic Studies)
Francis Tanglao-Aguas (Theatre and Asian & Pacific Islander American Studies)
Alumni
Diego Rodriguez Cabrera '19
Jessica Chilin-Hernández '12
Students 
 Administrators
Tish Canady (Associate Dean of Admission/ Director of Diversity & Access)
Joe Dobrota (Director, Financial Aid)
Sallie Marchello (Registrar) or Joanne Taylor (

Manager, Student Information Services

, Registrar's Office)
Eva Wong, (Director, International Students, Scholars & Programs)
Since 2017, when President Katherine A. Rowe and William & Mary's Board of Visitors issued statements of unanimous support for the university's DACA students, urging Congress to find a solution that would allow W&M's DACA students to finish their educations uninterrupted, the International Students, Scholars and Programs (ISSP) Office at the Reves Center for International Studies has served as a central point of contact at the university on issues pertaining to DACA and undocumented students. They have maintained the DACA resource hub on the William & Mary website and have collaborated with the entire W&M community — students, alumni, faculty, staff and administrators —to offer support and resources for current DACA students as well as applicants and students with different immigrant statuses who might need support and information. Eva Wong, director of ISSP, serves on the new advisory council, and the Reves Center will continue to provide support to the DACA and undocumented student population at the university.
In addition to providing access to information, the Reves Center also administers the Dare to Dream Fund, a reimbursement fund to help offset the DACA renewal filing fee, which is currently $495. More information about the fund and how to apply is available online.
The support of the William & Mary Fighting for Immigrant Rights and Equity (WMFIRE) student organization, led by Ashley Hernandez Estrada '21, has also played a vital role in promoting action and support for DACA and undocumented students.
More information about the new DACA/Undocumented Advisory and Support Council and other resources pertaining to DACA students is available at Student Engagement & Leadership. Students interested in serving on the Council should contact Professor Stelljes, adstel@wm.edu.