Mohammad Fadel Named Kraemer Middle East Distinguished Scholar-in-Residence
Mohammad Fadel, Associate Professor Canada Research Chair for the Law and Economics of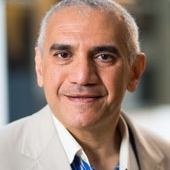 Islamic Law at the University of Toronto, has been named the 2018 Kraemer Middle East Distinguished Scholar-in-Residence, the Wendy & Emery Reves Center for International Studies and the Program in Comparative Legal Studies and Post-Conflict Peacebuilding at the William & Mary School of Law announced today
Fadel will deliver two lectures at the university, both of which are free and open to the public:              
Tuesday, February 6, 2018, 3:30pm – 5pm
"Islamic Legal Reform Between Democracy and Reinterpretation"
William & Mary Law School, Room 127, 613 S. Henry Street
Wednesday, February 7, 2018, 5:30pm
"The Islamic Theology of Sacrifice"
Tucker Hall 127A, 350 James Blair Drive
Mohammad H. Fadel is Associate Professor at the Faculty of Law, which he joined in January 2006. Professor Fadel wrote his Ph.D. dissertation on legal process in medieval Islamic law while at the University of Chicago and received his JD from the University of Virginia School of Law. Professor Fadel was admitted to the Bar of New York in 2000 and practiced law with the firm of Sullivan & Cromwell LLP in New York, New York, where he worked on a wide variety of corporate finance transactions and securities-related regulatory investigations. Professor Fadel also served as a law clerk to the Honorable Paul V. Niemeyer of the United States Court of Appeals for the 4th Circuit and the Honorable Anthony A. Alaimo of the United States District Court for the Southern District of Georgia. Professor Fadel has published numerous articles in Islamic legal history and Islam and liberalism.
The Kraemer Middle East Distinguished Scholar-in-Residence was established with a generous gift from Carole A. and Richard C. Kraemer '65. It is offered yearly, and provides the opportunity for a scholar specializing in Islamic law and governance to spend a short period of time at William & Mary sharing his or her expertise with the university community. It is open to all geographical areas and sub-disciplines, provided the scholar's background, interest and topical focus are on or clearly related to Islamic law and governance.