Mandela Fellows honor namesake with service to Grove
On Nelson Mandela Day, members of the Mandela Washington Fellowship for Young African Leaders observed the occasion in a manner that would have delighted the late South African president.
The 23 fellows, who are finishing a six-week civic leadership institute with a series of events at William & Mary, arrived at the Grove Christian Outreach in James City County last Wednesday. The outreach services a community in which 28 percent of the population lives below the poverty level, including more than half of the children who live there.
The fellows were there to help put out food for the 100 or so residents who come for supplies each week. Last year, the Grove distributed nearly 450,000 pounds of food to qualified residents, in addition to clothing, school supplies, bicycles, baby-care products, bus tickets, rent and prescription support.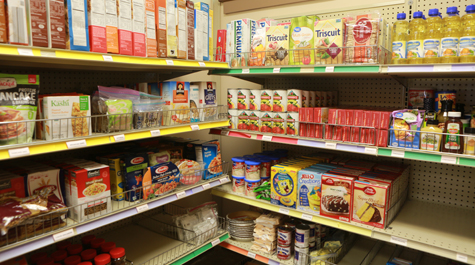 Cars, pickups and a large truck from a local food bank provided a constant stream of meat, bread, vegetables and fruits for the fellows to unload and carry to their appropriate distribution point in the warehouse-like center.
It is the fifth consecutive year the Reves Center for International Studies at William & Mary has worked in concert with the Presidential Precinct (a consortium among the University of Virginia and William & Mary; William Short's Morven, and the historic Presidential sites of three Founding Fathers: Thomas Jefferson's Monticello, James Madison's Montpelier, and James Monroe's Ashlawn-Highland), to help host the Mandela Fellows. Their visit to Grove was the fourth community-service project the fellows have participated in during their U.S. stay.
Since arriving at W&M, the fellows have attended sessions on international fund-raising and grant writing, non-violence in Apartheid in South Africa, the impact of holding public office and building blocks of communicating, among other subjects.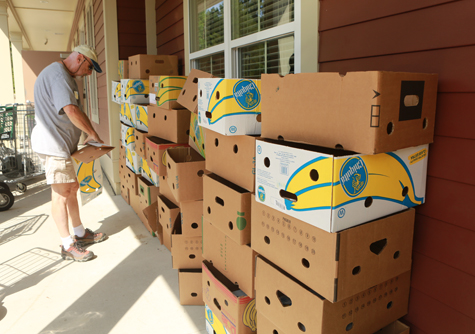 Their stay in Williamsburg will also include a meeting with new W&M President Katherine Rowe. On July 25, the fellows will attend closing ceremonies at the Wren Building then head back to the nation's capital and to their homes.
Being at the Grove on the day Mandela would have turned 100 years old gave the fellows an opportunity to reflect on the impact he has had on their lives and aspirations.
The fellows interviewed all pointed to Mandela's legacy of "forgiveness."
"The power of love over hate," is how Nerima Were of Kenya put it. "We struggle a lot with ethnic and tribal clashes in my country, especially when it comes to political power. One of the things he did was to teach us that no one is born hating. You have to learn it.
"There are a lot of things we have to unlearn in my country: what we think of each other, what we perceive of each other in terms of tribal groupings. When we listen and watch Mandela, what he did in South Africa, and see how he treated people after apartheid and what he'd been through, we can see that it's not impossible to get along and to unlearn hate. It is possible to forgive people."
Were said that the problems of race and prejudice she's heard about in the U.S. was, for her, "a good thing."
"It shows you that you can write a constitution, but nothing is ever over," she said. "You have to constantly work at it. We are early in our constitutional process; we got a new one in 2010. Sometimes you ask 'Why isn't it working yet?' But it's a process. When you see that here's a country that's been doing it for 200 years and they're still grappling with questions, then you know that you are at the beginning. There's a long journey ahead of you, but you have to keep going."
For Bonface Massah, serving people in need at the Grove wasn't all that much different from some of the work he does in his native Malawi. But the scale of the operation in James City County was impressive.
"I've worked a lot in setups like this one, where it's about serving the community and reaching out to the community," he said. "It's something I feel I need to do in my community, in my villages. I work a lot in rural areas, and that spirit of loving one another is one I'd like to bring back, working together and even sharing the resources we have in our own country and villages. It could be maize, bees, anything, but we have to work together and share together as a community.
"It's something I believe we need to do more. We have seen how this spirit is changing the lives of people here in America. This is why we also are here today, working with the community. The message is that we are all equal, but others may be disadvantaged, and we need to reach out to them."
Nombuso Mabuza-Simelane, a high school English teacher from Swaziland, formed a girls' empowerment group at her school that she said is carrying Mandela's message of love for those around you from student to student.
"We do community service where the girls visit the old in the area and offer them some food," she said. "We also have a popcorn project started by the girls in the school. They sell popcorn in school and with profits from that they buy uniforms for those who have a need."