W&M a top producer of Peace Corps volunteers
William & Mary is one of the top producers of Peace Corps volunteers in the country, according to a ranking released today by the organization.
With 21 alumni currently volunteering in countries across the globe, William & Mary is ranked 12th among medium-size colleges and universities, which includes schools with 5,000 to 15,000 undergraduates. Last year, the university was ranked 22nd.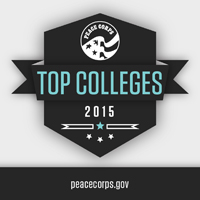 With 47 volunteers, Western Washington University is the top-ranked medium school on the list this year, followed by American University with 41 and George Washington University and the University of Virginia, tied with 36 each.
Alumni from more than 3,000 colleges and universities nationwide have served in the Peace Corps since the agency's founding in 1961, including 608 W&M alumni. The university is the fifth-highest producer of Peace Corps volunteers in Virginia this year and ranks third on the all-time list of top volunteer-producing institutions in the Commonwealth.
Katie Gehron '12, who studied international relations and Francophone studies at the university, currently works as an education volunteer. She credits W&M's community service activities with helping to prepare her for service in Burkina Faso, where she teaches preschool and works on income generation projects with women in her community.
"Peace Corps has been a great opportunity for me to grow. I have learned a lot about myself and also a lot about what I want to do in my career," said Gehron, 25, a native of Falls Church, Virginia. "It is a chance to become a part of a community and work on building their abilities—all your skills and concentrations become an asset as a Peace Corps volunteer."
This year's rankings follow historic reforms to the Peace Corps' application and selection process, led by Director Hessler-Radelet, that resulted in a 22-year application high for the agency in 2014. Applicants will now find a simplified, more personal application process, and can learn more by reaching out to the Mid-Atlantic regional recruitment office at dcinfo@peacecorps.gov or 202.692.1040.
Since President John F. Kennedy established the Peace Corps in 1961, nearly 220,000 Americans of all ages have served in 140 countries worldwide. For more information, visit www.peacecorps.gov.