Study Abroad Fair Attracts a Big Crowd Family Weekend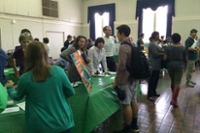 A grey drizzle not only didn't discourage anybody, but it may have actually contributed to the largest attendance ever at a Study Abroad Fair. On Saturday, September 26, 2015, during Family Weekend, the Global Education Office held its annual outreach event for students and their parents curious about study abroad opportunities. A steady stream of umbrella-bearing families made their way to Campus Center and later in animated conversation, guarding postcards and information sheets from the rain.
William & Mary is the number one public university in the U.S. for study abroad, with around 50% of students traveling abroad as undergraduates. But in spite of the enthusiasm, there are so many options available to students, it can be overwhelming to sort through them.  First, there are opportunities to visit more than 70 countries, so it's not that easy just deciding where to go. Then, there are about 20 W&M summer programs; two dozen W&M semester programs; and more than 200 third-party, non-W&M programs.
To help navigate the process, for three hours, Trinkle Hall was transformed into a bustling, international market with faculty program directors, students and GEO staff at stations to inspire, intrigue and hopefully engage. From Australia to Wales, and countless countries in between, there was no end of possibilities.
One of the busiest tables was Financial Aid and Scholarships, where GEO staffer Nasha Lewis managed an almost constant flow of families interested in ways to make study abroad a reality.  Many were surprised and pleased to learn that the Reves Center awards more than $400,000 annually in study abroad scholarships.
Clearly, the message of the day was: "The Global Education Office and Reves Center want to make your study abroad dreams come true."