Study Abroad and the Job Search: Q&A with a Senior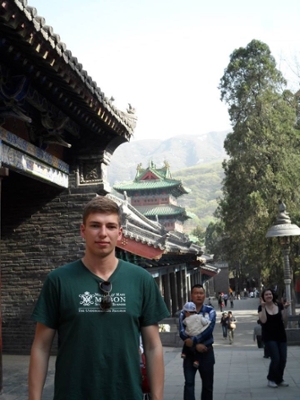 Study abroad is not only great for the intellect and the soul, but also for the job search! One of the Global Education Office's Peer Advisors is Thomas Obermeier '15, a senior from Frankfurt, Germany, majoring in accounting with a business minor. We wondered if his experiences studying abroad have had any impact on his plans for life after William & Mary:
Q: Where and when did you study abroad?
A: I spent my Sophomore Spring semester (Spring 2013) in Beijing, China, at Peking University.
Q: Why did you decide to go there?
A: I started taking Mandarin my Freshman year and knew that the best way to improve my language skills was by actually studying in China. One of the main factors that drew me to the Peking University program was the two-week study-travel trip at the end of the semester that took us, among other places, to Tibet.

Q: You already have a job lined up after graduation. What is it?
A: I will be working in Audit for Deloitte & Touche in McLean, VA.
Q: Will you be working in an international setting or dealing with international projects?
A: While I haven't been assigned a client for when I start full-time, I was put on the IMF project while I interned with Deloitte this past summer based on my international background and experience.
Q: Did you mention that you had studied abroad when you applied for jobs? Were you ever asked?
A: As part of my study abroad program, I took classes three days a week and interned for an IT-consulting firm twice a week. Interviewers were very interested to hear about my experiences there and how the work climate in China compared to that in Germany or the U.S. Additionally, a lot of the younger interviewers had also studied abroad and exchanging stories was a great way to build rapport and get a conversation going.
Q:Do you think your experiences improved your chances or placed you above other candidates? In what way?
A: I am very confident that this was the case. Studying abroad, especially in countries where English is not a common language, shows that an applicant can live/work independently and most likely has great problem-solving skills. Seemingly simple every-day tasks such as buying groceries or traveling can be very difficult when you are in a completely foreign country and culture. 
Q: What do you think was most valuable about studying abroad? Anything that surprised you?
A: One of my favorite stories to tell about my time in China is when on my second day of my internship with the consulting firm I was asked to change desks because a lady didn't like the "feng-shui" at hers. 
The most valuable thing I gained was an appreciation for the people and their culture. China is such a historic and complex country with a fascinating past and future. Studying there taught me to have an open mind and try to gain as much information and experiences as possible.
Q: What advice would you give to students considering studying abroad?
A: There is no downside to studying abroad. W&M has been in existence for 322 years and will most likely still be here 322 years from now. By spending one of your eight semesters here abroad, you miss so little but gain experiences and memories that will stay with you for a lifetime. 
I think that another lesson I learned was to make mistakes. Especially in my first month in China, I was at times hesitant to speak Chinese because I knew mine wasn't too good, and I didn't want to say something wrong. However, most people truly appreciate your effort to learn their language and actively help you to improve it.