Marinazzo to discuss Renaissance architecture of Florence
Adriano Marinazzo, the Scholar in Residence at the Muscarelle Museum of Art, will speak on March 18, 2013 at 1pm in the Reves Room on "Studying the Renaissance Architecture of Florence: Virtual Drawing and Contemporary Art." This presentation will be part of the Reves Hall Coffee Hour lecture series.
The Reves Hall Coffee Hour is a speaker series featuring informal discussions between students, professors, and other guest speakers on global affairs and perspectives. The series began as a benefit for residents of Reves Hall, William & Mary's "global village" dedicated to housing international and domestic students with an interest in international affairs, but quickly became so popular that it expanded into a schedule of public lecture events.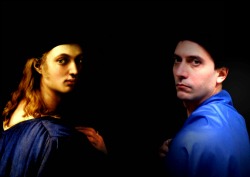 Marinazzo, an architect, artist, and architectural historian previously of the Department of Architecture at the University of Florence, will discuss his visual reconstructions of Renaissance monuments in Florence, especially the Pitti Palace, the current Michelangelo exhibition at the Muscarelle Museum, a new discovery on the Sistine Ceiling he made while in residence at the museum, and his current project on the architectural history of the William & Mary campus.
Marinazzo has worked with the Muscarelle Museum twice before. In 2008 he assisted with the Painting the Italian Landscape: Views from the Uffizi exhibition, and in 2010 he presented a study on the Pietrasanta Bell Tower during the Michelangelo: Anatomy as Architecture, Drawings by the Master exhibition.
He contributed to the museum's current exhibition, Michelangelo: Sacred and Profane, Masterpiece Drawings from the Casa Buonarroti, by writing the architectural entries of the catalog. This exhibit features 25 drawings preserved by Michelangelo's descendants from the family home, the Casa Buonarrati in Florence, Italy. It will be on display at the Muscarelle Museum of Art until April 14, 2013.