Five questions with Marshall Zobel '15
Marshall Zobel '15, the upperclassman speaker for the 2013 William & Mary new student orientation program, reflects on his semester studying abroad at the University of St Andrews in spring 2013.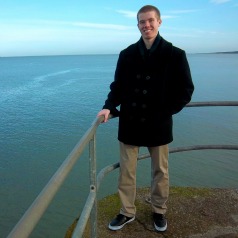 How did studying abroad contribute to your overall university experience thus far?
Studying abroad contributed to my university experience by putting the American higher education system in perspective. While at St Andrews I was introduced to a significantly different style of education, both in coursework and teacher-student interaction. By talking with other international students, I was able to get a sense of several other education systems as well. Studying abroad and seeing these differences also made me appreciate William & Mary even more.
How has studying abroad influenced your course of study or future career plans?
While at St Andrews, I took classes to go towards my minor, which is history. My major, business, remains unchanged, so in that respect studying abroad has not significantly impacted my course of study. Living in St Andrews has, however, interested me in the possibility of pursuing a career in Britain, and I hope to start looking at internship and job opportunities this semester.
What did you learn about yourself while you were studying abroad?
I learned that it's hard to spend five months alone in a foreign country and not achieve a greater degree of independence. It was the first time I had been completely on my own in "the real world," and it forced me into many situations (some fun, some stressful) that I had previously been accustomed to my parents handling. For example: cooking, traveling and public transportation, money management, new social scenes and activities, etc.
What was your favorite study abroad memory?
I have so many great memories from Scotland, so a favorite is hard to pinpoint. One of the best memories is the first trip I took to Edinburgh with five friends. We took the bus into the city to see an international rugby match, Scotland vs. Ireland. None of us were rugby experts, but my roommate and I knew enough to explain what was happening in the match. We had a blast; the match was close, the fans were loud, and Scotland won. Afterwards, we all walked to the castle that overlooks the city, and then to the Elephant House, the cafe where J.K. Rowling worked on the first Harry Potter novel! Since we are all huge Harry Potter fans, it was the perfect ending to the day.
What advice would you give to incoming W&M students regarding studying abroad?
The best advice that I can give to anyone interested in studying abroad is if you have the opportunity to study abroad, DO IT! Know what you want out of it, language immersion, cultural experience, research opportunities, professional experience, etc., and go for it because you won't regret it. Studying abroad is a unique experience that students might never have the opportunity to do later in life.