Bembenek '15 awarded first Gates Scholarship for summer study abroad
In the opinion of Tyler Bembenek '15, an international relations and German studies major, St. Augustine got it right when he said "The world is a book, and those who do not travel read only a page."
"I think we can all agree the world is a book worth reading," mused Bembenek. "I would like to get beyond the first few pages!"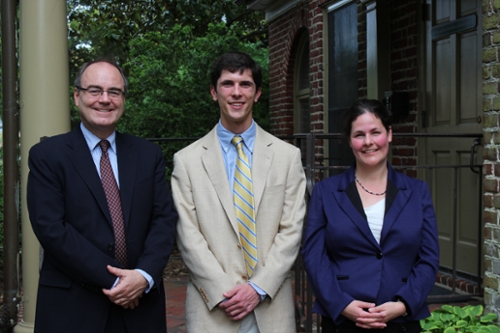 In summer 2013, with the aid of the first Gates Scholarship for summer study abroad, Bembenek studied English medieval history at St. Peter's College, Oxford University.
"There is no better place to learn English history than England itself," said Bembenek. "This course offered the opportunity to study in an incredibly dynamic manner as weekly excursions to castles, battlefields and other sites of interest helped reinforce the material I learned on campus."
In addition to touring historical sites, Bembenek's time at Oxford also allowed him to enroll in a course not offered at W&M, as well as immersed him in the English tutorial system, a far different learning environment than the lecture-style courses with which he was more familiar.
"The English tutorial system has definitely helped me to develop my research skills," said Bembenek.
"This self-directed approach has allowed me to develop a stronger sense of academic initiative, especially in regards to unorthodox or difficult source material. Although I've always been very interested in learning on my own, I've rarely done so in a truly academic manner, often relying on more accessible secondary sources. Working with medieval documents such as Gesta Stephani and Magna Carta has opened my eyes to the incredible value of primary source material. I now have more confidence initiating my own research and engaging with academic sources outside of my comfort zone."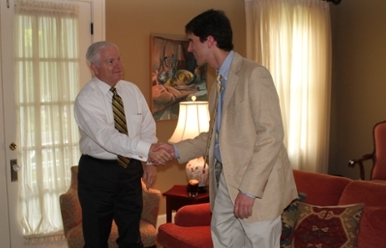 Donated by William & Mary Chancellor Robert M. Gates '65, L.H.D. '98 and his wife Rebecca, Gates Scholarships are merit-based awards for outstanding W&M students with a declared major in international relations or global studies.
Prior to leaving for England, Bembenek had the honor of meeting privately with Chancellor Gates to discuss his upcoming study abroad experience and a shared interest in medieval history.
 "It was an incredible honor for me to be chosen as a Gates Scholar and to have the opportunity to meet Chancellor Gates," said Bembenek. "His many years of service to the United States is very inspiring. Although I do not yet know in what capacity, I hope that one day I may emulate Chancellor Gates by serving my nation."