W&M Summer Programs Applications Open November 15
Each summer students at the College of William & Mary have the chance to see the world, earn course credit and engage in life-changing experiences on W&M study abroad programs. The application cycle for 2012 summer programs opens on November 15, 2011.
W&M summer programs offer students the opportunity to take courses from W&M professors and earn W&M grades, and course credits, which will be calculated into their GPAs. These programs are also relatively short in duration, between three and eight weeks, so many students find it easy to fit a job or internship into their summer plans. Some programs also offer courses which fulfill GER requirements, such as Siracusa, Italy (GER 1), Galway, Ireland (GER 2a), and Cape Town, South Africa (GE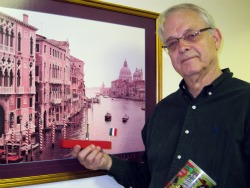 R 5 or 6).
"Summer programs give all students an opportunity to study abroad. Not all students are able to go on a program that would take them off campus for a semester, taking them away from jobs, extracurricular activities, or specific department coursework that may not be supplemented abroad," said Molly DeStafney, an  Assistant Director in the Global Education Office of the Reves Center for International Studies.
"These programs also provide a springboard for underclassmen to go abroad and get their feet wet for a longer study abroad program later in their academic career.   Additionally, summer programs make an excellent capstone experience for an upperclassman as well. 
"Some programs offer students the chance to conduct their own research in a second language, like Montpellier (France), Cadiz (Spain), and St. Petersburg (Russia). Others, like Holetown (Barbados) and Rome and Pompeii (Italy), offer hands-on learning through exploring archeological remains. Cape Town offers the opportunity to tutor youth and adults in South African townships.  There is no doubt about it: William & Mary summer programs have something to offer for every student."
Other 2012 summer program options include, programs in Beijing (China), Prague (Czech Republic), Cambridge (England), Potsdam (Germany), Goa (India), and Florence (Italy).
The Reves Center for International Studies also offers over $150,000 in need-based scholarships for students participating in W&M summer study abroad programs.
Interested students may apply for a summer 2012 program or scholarship at http://studyabroad.wm.edu. The application deadline is February 1, 2012.