W&M hosts sole Armenian IREX Fellow, Dr. Gagik Demirjian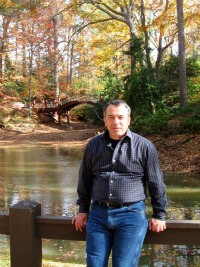 Dr. Gagik Demirjian, head of the Doctoral Department at the Gyumri State Pedagogical Institute in Armenia, spent six weeks of the fall semester at William & Mary as a visiting Fellow of the International Research and Exchange Board (IREX).
Dr. Demirjian, the sole IREX Fellow from Armenia in this cycle, was a participant in the University Administration Support Program (UASP), developed by IREX with the support of the Carnegie Corporation of New York.
"The program provides fellowships of six weeks at U.S. universities, empowering participants to directly analyze U.S. models and management culture," said Demirjian, "and to consider solutions to management challenges we face in our home countries."
Demirjian's research, a case study on "Research Management at the College of William and Mary," involved interviewing those responsible for the management of research enterprises at the College. Included were Dennis Manos, vice provost for research and graduate professional studies, Stephen Hanson, vice provost for international affairs and director of the Reves Center for International Studies, and Jane Lopez, director of the Office of Sponsored Programs.
"I currently serve as Head of the Doctoral Department at the Gyumri State Pedagogical Institute. With this position I am in charge of coordinating research activities for doctoral students and monitoring research quality assurance," explained Demirjian. "Following my IREX fellowship, I hope to assist the university's restructuring of the research office and to contribute to developing a management infrastructure for research activities."
Demirjian's presence as a visiting fellow benefited W&M as well.
"These types of exchanges with scholars from universities around the world are critical to William & Mary for a number of reasons," said Pamela Eddy, a professor in the School of Education who served as Demirjian's host. "First, an exchange scholar allows W&M faculty members to learn more about university operations in other countries and begin to build relationships that may evolve into longer-term collaborations on research and teaching.
"Second, students are able to learn about life in another country through interactions with visiting scholars and are able to attend lectures on a wide range of topics. Finally, the university makes strides in internationalization as visiting scholars guest lecture in classes and information learned during exchange visits is embedded into the curriculum. These types of exchange programs are win-win for all involved!"