Sharp Seminar connects W&M students with Pulitzer Center on Crisis Reporting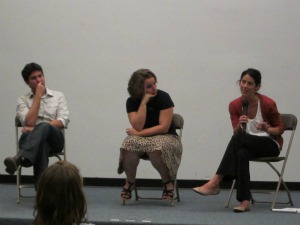 The 2011 – 2012 Sharp Seminar kicked off on October 17 with a daylong visit from journalists Jina Moore, Stephanie Hanes, and photojournalist David Rochkind. The three, grant recipients from the Pulitzer Center on Crisis Reporting, work throughout the world to explore under-reported issues, including statelessness and land rights, United Nations peace-building efforts, and the growing threat of multi-drug resistant tuberculosis.
The Sharp Seminar, established with a generous gift from Anne and Barry Sharp, is a joint initiative between the Pulitzer Center and the College of William & Mary. It pairs the three Pulitzer Center-sponsored journalists with 12 W&M students invited by faculty to apply to the program.
This year, Moore, Hanes and Rochkind will visit the College three times and mentor the selected students in their individual projects. By the end of the academic year each student participant should emerge with a publishable piece of writing or multimedia.
The October 17 visit was the first of the three, and included visiting various classes, meeting with the staff of the DoG Street Journal, and participating in a public panel discussion, "Bringing Home the Story: Reporting On Crisis Beyond the Headlines."
Joel Schwartz, director of the Roy R. Charles Center, noted that although William & Mary has no communications program, there are many W&M students interested in journalism as a potential career path. The Sharp Seminar offers these students the chance to interact with practicing journalists and benefit from their extensive experience.
"When we talk about the College's mission, we always talk about preparing students in citizenship as well as in their academic areas," said Schwartz. "The Sharp Seminar, and the relationship it offers to practicing journalists sponsored by the Pulitzer Center, is another way we can help them. This experience will prepare students for communicating as citizens, with citizens, not just as academics with academics."
Shannon Beydler '12, an English and government major, interned for the Pulitzer Center last summer.
"I applied for an internship at the Pulitzer Center because the theme of my W&M in Washington semester program was 'New Media and Culture in the Nation's Capitol,'" explained Beydler. "Our internships had to correspond to our course of study… The Pulitzer Center was the first place to offer me an internship and I immediately took it because I knew it was a smaller office with a strong W&M alumni base and there was a lot of opportunity for interns to get their hands on real work and training with a variety of different media platforms."
As a Pulitzer Center intern, Beydler edited blogs and web content, maintained the Center's YouTube channel, and sent outreach emails about the Center's Fragile States Gateway. Highlights of her internship included assisting with an interview of Chief Prosecutor of the International Criminal Court, Luis Moreno-Ocampo, helping to interview author Robert Pape, and partly organizing "Dateline: Sahara," an event in collaboration with National Geographic which was attended by the Ambassador of Mali.
"The Pulitzer Center on Crisis Reporting is unique in that it is a hybrid non-profit journalism organization that promotes international reporting projects that aren't covered in American media outlets," explained Beydler. "The mantra of the organization by Joseph Pulitzer III, 'We will illuminate dark places and, with a deep sense of responsibility, interpret these troubled times' rings true for the work that they make accessible to world readers."