NCSC, W&M announce Linda Caviness International Student Internship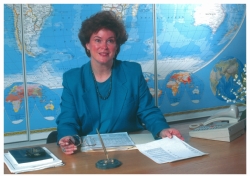 The National Center for State Courts (NCSC) and the Office of International Students, Scholars, and Programs (ISSP) at the College of William & Mary are announcing the establishment of the Linda R. Caviness International Student Internship.
The first intern will be selected in spring 2012, with the actual work beginning in fall of the same year.
The internship is named in honor of Linda R. Caviness, who is retiring on Dec. 31 after 33 years at the NCSC.
The intern recipient will be recruited annually by the National Center from a pool of undergraduate international students at the College. The internship will provide international students the opportunity to gain first-hand experience in the workings of the American court system and nonprofit organizations through the programs and activities of the National Center.
"Linda helped establish the NCSC's International Programs Division, which assists emerging democracies with establishing vibrant justice systems overseas," said NCSC President Mary McQueen. "Creating an international internship reflects Linda's values, and will provide a lasting legacy of her impact at the National Center, and furthers her already substantial impact on the local community in Williamsburg."
Added Steve Sechrist, director of the Office of Students, Scholars, and Programs at the Reves Center for International Studies: "We are very excited about this new internship through NCSC. It is a wonderful way to meet a demonstrated need among our international student community and honor Ms. Caviness' leadership and legacy in international programs. Providing opportunities for meaningful co-curricular experiences is critical to the College's mission of preparing our students to be global leaders.
"Internships enable students to make that important connection between theory and practice. Particularly for our students from abroad, internships also advance a national mission of public diplomacy as they help our international students deepen their understanding of U.S. society."
Caviness joined the NCSC in 1978 as staff associate, and throughout her three decades of service, she held top positions in several NCSC divisions. In 1982, she moved into Development, NCSC's fundraising arm, quickly becoming Director of Development and Central Services before being named Vice President of that division.
After serving as Chief Financial Officer, Caviness took over as Executive Director of NCSC's newly established International Programs. In this position, Caviness helped build NCSC's position in the international court community, overseeing projects in Egypt, El Salvador, Argentina, Honduras, Serbia, Croatia, and other emerging democracies working to establish the rule of law. In recent years, Caviness served as executive director of NCSC's Knowledge and Information Services and Association Services divisions.
"Linda has been a driving force at the National Center for years, and while we are happy for her to move into this next phase of life, her work and presence will be missed," said McQueen. "Linda has served as a leader not only at the NCSC, but for the national and international court community. Her contributions will be felt for years to come." 
The National Center for State Courts, headquartered in Williamsburg, Va., is a nonprofit court reform organization dedicated to improving the administration of justice by providing leadership and service to the state courts. Founded in 1971 by the Conference of Chief Justices and Chief Justice of the United States Warren E. Burger, NCSC provides education, training, technology, management, and research services to the nation's state courts.