General Anthony Zinni speaks on "The Changing Middle East"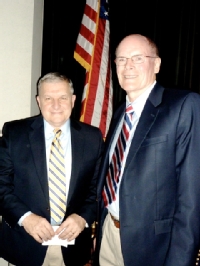 General Anthony Zinni, USMC (Ret.) spoke to a capacity crowd at the Williamsburg Regional Library on October 18, exploring the landscape of "The Changing Middle East."
General Zinni is former Commander in Chief, United States Central Command (CENTCOM).  After his retirement, Zinni continued to serve his country as the U.S. Peace Envoy in the Middle East. He is the author of "Battle for Peace," "Leading the Charge," and is co-author of "Battle Ready," with Tom Clancy.
In his speech, General Zinni discussed a number of factors that might shape the Middle East over the next five to 10 years, including the outcome of the Arab Spring, various countries' examinations of relationships with the United States, the emergence of China as an alternative source of support to the region, the health of local economies, and the risk of water shortages leading to desertification and the loss of arable land.
"General Zinni picked the topic," said Ralph Bresler, chair of the James City County Democratic Committee and organizer of the lecture. "Given his deep expertise in the area, personal acquaintance with many of the area's leaders from his CENTCOM and Mideast peace negotiator days, and the sweeping changes in the Middle East, it was very timely."
Following his remarks, Zinni took questions from the audience on topics as diverse as the United States' relationship with Pakistan, the influence of Russia in the Middle East, and the likelihood of the U.S. military reaching a "breaking point" as a volunteer force.
Zinni's speech was one of many organized by Bresler, who believes that bringing speakers with "major national security backgrounds" to the area is a service to the local community. In the past year Bresler has also hosted events featuring Lawrence Wilkerson, former chief of staff to Colin Powell and current William & Mary distinguished adjunct professor of government and public policy, and former Deputy Secretary of Homeland Security Admiral James Loy.
W&M faculty, staff, and students interested in staying informed of similarly internationally-focused events should subscribe to the Reves Center's "What in the World?" weekly digest.