Exchange student completes charity bike ride from Canada to Mexico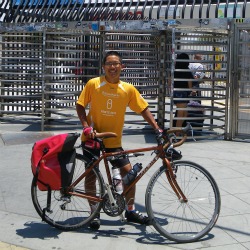 When Osaka, Japan, native Kiyotoshi Miyauchi arrived at the College of William & Mary in spring 2011, he wasn't planning to return home until his two-semester exchange program was over.
"I was always wondering what I would do for the summer," explained the Akita International University exchange student. "I didn't want to go back home (to) Japan; rather, I wanted to spend time in America to experience American culture more deeply."
While looking for volunteer work or an internship, Miyauchi discovered Global Agents for Change, a Vancouver-based non-profit that organizes "Riding to Break the Cycle," a program of charity bike tours dedicated to eliminating poverty.
Since 2007, Global Agents for Change has raised more than $200,000 for anti-poverty initiatives around the world, including education and economic development programs in Sri Lanka, Cambodia, Rwanda, Kenya, Uganda, Peru, Afghanistan, Pakistan, and India.
Miyauchi volunteered for the Pacific Coast tour, which started on May 29, 2011, in Vancouver, British Columbia, Canada and concluded on July 7, 2011, at the Mexican border in Tijuana. The tour raised funds for a Kenyan program, "Street Youth Today, Entrepreneurs Tomorrow," run by Kito International, a non-profit social enterprise that partners with youth to create businesses providing jobs to participants and allowing them to become self-sufficient.
"There were many parts (of the tour) that were memorable," said Miyauchi. "I have to say the most memorable part was the people I met on the way. Many people generously provided us with places to stay, and some of them even provided food. Also, communicating with other cyclists was another of the most memorable elements of the tour.
"Most importantly, my team members were awesome. Spending more than a month together, we shared a lot of stories and experiences, and we had both good and bad times. But our friendship was really strong at the end of the tour. I'm excited to see them again in the future."
Prior to the Pacific Coast tour, Miyauchi had not been a long-distance cyclist.
"It was entirely new to me," he said. "However, one of my goals during this study abroad (experience) was to 'try something new,' so it was perfect!"