Executive MBA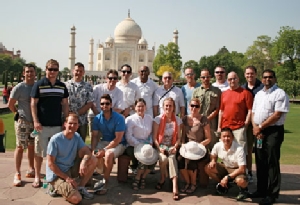 students in Professor Prabhu Aggarwal's global strategy management class spent twelve days in May traveling through India, completing the International Residency element of their coursework. They began in Delhi, then to Bangalore, and finally Mumbai.
The group started out the India International Centre to hear the "Story of India," presented by Dr. Pramath Raj Sinha, Founder and Managing Director of 9.9 Medioworx and a former McKinsey Partner.  He shared in detail the history and metamorphosis of India and reviewed with us the trip itinerary developed in part by his travel company.
Our first visit was to the automobile manufacturing company Maruti-Suzuki, a subsidiary of Suzuki Motors. Then followed an in-depth discussion with high level directors of the Bharti Walmart Private Limited operation, a joint venture between Bharti Enterprises and Walmart. We learned about the challenges of how the world's number one retailer is managing to do its business in the complex culture and somewhat undeveloped infrastructure of the Delhi region.
No trip to India would be complete without an excursion to the Taj Mahal in Agra. There is no doubt about why it's included in the New Seven Wonders of the World.  What they don't tell you in the travel brochures is the investment of time it takes to see this fantastic site!  A five hour bus ride through the countryside of Delhi is required before you see the first glimpse of the Taj. 
The contrast of people, vehicles, and animals we navigated to Agra was astonishing. From multiple people riding on a single scooter traveling about their daily business to camels hauling products indigenous of the area, we witnessed the true culture of this area.  It was amazing to watch their ability to transport goods and people in a seemingly chaotic infrastructure while navigating the frequent passing of freely roaming cows and the unending horn blowing of vehicles.
Our next stop was Bangalore, the technology sector of the country.  After a visit to Tejas Networks, a telecommunications company that creates transport solutions built on optical networking technology, we visited with faculty and students from the picturesque Indian Institute of Management, Bangalore (IIMB).  After listening to Dr. Krishnan, a Professor of Corporate Strategy and Policy, talk about innovation, we separated into small groups with EMBA students from IIMB. 
Our next visit included an impressive presentation and tour of Infosys Technologies Ltd., a global leader in the "next generation" of IT and Consulting with revenues of $6.04 billion.
Finally, we were to Mumbai, the financial and entertainment capital of India, nestled off the coast of the Indian Ocean.  After checking into the Oberoi Hotel, we embarked on our final business visits.  First to ICICI Venture, one of the largest and most successful private equity firms managing over $2 billion in assets.  Our most popular event was a trip to Goli Vada Pav, one of the most prominent start-up fast-food retail businesses in India.  Goli Vada Pav was incorporated with the idea of creating an ethnic snack chain offering the staple Mumbai street food, vadapav, in a standardized and hygienic manner at an affordable price.
This product has become an alternative to traditional fast food and McDonalds has invested in this company by sharing rights to a manufacturing facility. To cap off the experience, students attended the Mumbai Indians cricket game before departing home to the U.S.
A magnificent international experience -- developed and executed by Professor Aggarwal --  was truly unique and memorable.  Despite a few cases of "Delhi belly" and the scorching weather conditions during our trip, students and staff will always treasure this remarkable international residency!