W&M selected for pilot program in India
The College of William and Mary has been chosen as one of 10 institutions in the nation to participate in a federal pilot program geared toward developing and expanding educational partnerships in India.
William & Mary was chosen by the Institute of International Education (IIE) to participate in the pilot group for the International Academic Partnership Program, an initiative funded by the U.S. Department of Education for the Improvement of Postsecondary Education.
"We are very pleased to be chosen as one of the 10 institutions for this international partnership program," said William & Mary Provost Michael R. Halleran. "William & Mary has a long and rich tradition of being a liberal arts university that focuses on cross disciplinary study and faculty-student interaction.
We're eager to both share what we've learned from our experiences and also to learn what our new partners in India have to teach us."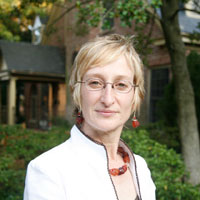 During the next year, the College will participate in a number of training activities and webinars focused on implementing and sustaining partnerships, and will join a study tour to India in the fall to meet with potential partner campuses. William & Mary is also committed to forming a campus task force to work on prospective partnerships, conducting an institution-wide inventory of activities pertaining to India, and developing a strategic plan focused on a partnership with India, said Laurie S. Koloski, director of the College's
Reves Center for International Studies
. Koloski, who submitted the College's winning proposal, said faculty and student involvement in India and South Asian Studies has grown steadily at William & Mary over the past decade.
"This pilot program couldn't come at a better time," said Koloski, who is working on the partnership with a number of other William & Mary faculty, including
Arnab K. Basu
, associate professor of
economics
;
Rani D. Mullen
, assistant professor of
government
;
Pamela Eddy
, associate professor of
education
, and
Walker Smith
, professor of marine science at the
Virginia Institute of Marine Sciences
(VIMS). "It asks us to take a close look at what we're doing now and to think hard about our goals and priorities going forward.
"By partnering with universities in India, we will certainly strengthen South Asian studies at W&M, but we will also create opportunities for students and faculty in all fields to engage in global knowledge networks. What's so exciting about partnering in this way is that the results are both local-enhancing the work we do on campus-and global-extending our reach out into the world-in the fullest sense of the words."
William & Mary proved to be uniquely qualified for this leadership position among American colleges and universities, Koloski added.
South Asia-focused courses are regularly taught in
anthropology
,
art
,
business
,
economics
,
education
,
government
,
history
,
music
,
religious studies
,
sociology
, and
theatre, speech and dance
. Many of these courses regularly fill up and even have waiting lists, she said.
The College also has a summer study abroad program in Goa, India; William & Mary's Mason School of Business annually takes a group of students on a study tour of India; and faculty members in different departments have brought in guest speakers in the general field of South Asian Studies. Undergraduate students at the College have also been active in the field of South Asian Studies, college officials said. The South Asian Students Association, which with more than 100 members is the largest student organization representing a geographical region, annually performs a South Asian festival at the College. And the coed student Bhangra dancers perform regularly on campus and in the local community.
The International Academic Partnerships Program is one of several IIE initiatives targeted at strengthening higher education bonds between the U.S. and India. Earlier this month, IIE's President Allan Goodman and Martha Kanter, the Under Secretary of Education, led a delegation of U.S. higher education leaders in a week-long visit to India, to promote U.S. higher education and to expand linkages with Indian higher education institutions. The program could grow to eventually include partnerships with institutions in China.
"It is clear from the high level of interest we have seen from U.S. and Indian colleges and universities that institutions in both countries are very eager to develop linkages to internationalize their campuses," Goodman said in the official IIE announcement of the pilot program. "The International Academic Partnerships Program (IAPP) initiative will provide important tools and expertise both to the ten selected institutions and to the many other campuses seeking to expand U.S.-Indian academic partnerships. We are looking forward to working with this selected group of very engaged and dedicated institutions, and to sharing best practices widely."
Seventy-five U.S. colleges and universities applied to participate, with selections made by an advisory committee of experts in the field of post-secondary and higher education. Other schools chosen were California State University- San Bernardino, Florida Atlantic University, Oakland Community College, Ohio Wesleyan University, Spelman College, St. Cloud State University, The University of Tulsa, University of South Carolina and Winston Salem State University.