W&M alumna's nonprofit positions young parents for success in higher ed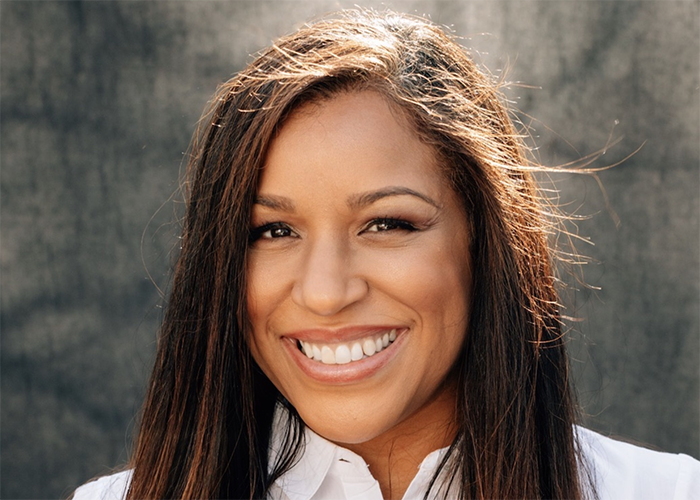 The following story originally appeared in as an online exclusive for the W&M Alumni Magazine. - Ed.
As a young parent attending William & Mary, Nicole Lynn Lewis '03 felt like she was the only person struggling to attend undergraduate classes and complete assignments while changing diapers, searching for reliable child care and worrying about how to pay for food and housing.
Through Generation Hope, the Washington, D.C.-based nonprofit she founded in 2010, Lewis connects students in similar circumstances with peers, mentors and financial and emotional support to help them reach their higher education goals. The nonprofit's two-generation programming also helps to prepare the students' children for elementary school.
Now, Lewis is widening the reach of Generation Hope beyond the D.C. region by working with policymakers and educational institutions to better accommodate parenting students and improve graduation rates.
"It is a real time of expansion and looking to see how we can make an impact both within the D.C. metro area but also beyond it," Lewis says.
Her efforts received a significant boost during the past year from two high-profile grants and through response to her autobiographical book "Pregnant Girl: A Story of Teen Motherhood, College, and Creating a Better Future for Young Families," released on May 4.
The first grant was from the Black Voices for Black Justice Fund, created in the wake of national unrest in response to the police killings of George Floyd and other Black Americans. The fund supports leaders who are addressing systemic racism by working to reverse disparities in education, health care, employment, criminal justice, voting access and other areas.
Lewis was among 31 leaders from 15 states and the District of Columbia who received inaugural awards last September. Organizers established the fund with an initial $2 million investment and a goal of raising more than $10 million.
Emmy-winning producer and actress Kerry Washington, co-chair of Black Voices for Black Justice along with bestselling author and Robin Hood Foundation CEO Wes Moore, says in announcing the fund that supporting Lewis and the other recipients "is critical as we strive towards equity and racial justice in this country."
For Lewis, educational opportunity is inextricably linked to racial justice. By telling her own story and those of other young parents, she hopes to shine a light on the underlying issues that contribute to teen parenting and dispel stereotypes that tend to hinder effective support.
She says she is motivated by statistics such as these: Fewer than 2% of teen mothers receive a college degree before age 30, according to the organization Power to Decide (originally known as The National Campaign to Prevent Teen Pregnancy). One in five undergraduate students across the country is a parent. Nearly half of Black female undergraduates are mothers. While students who are parents typically have a higher grade point average than those who are not parents, they are 10 times less likely to graduate, Lewis says, citing figures from the Institute for Women's Policy Research.
"Student-parents are an invisible population within higher ed," she says in a May 17 "W&M Writers of Washington" virtual talk. "They're more likely to be low income, they're more likely to be students of color, they're more likely to be first-generation college students." 
When the COVID-19 pandemic took hold, many were already in crisis, Lewis says, adding that almost 70% of parenting college students had faced housing insecurity within the last year.
"When you earn a college degree, it puts you in a different position economically. It puts you in  a different position from a social capital standpoint," she says during the discussion, which was moderated by former Generation Hope intern Mariana Eraña Salmerón '21 and Chon Glover M.Ed. '99, Ed.D. '06, W&M chief diversity officer.
"The added bonus is that the child is then set up for success in a different way than they would be if their parent had not earned a post-secondary credential," Lewis says. "When a child is 8 years old, their parents' educational level predicts their own academic and career success 40 years in the future."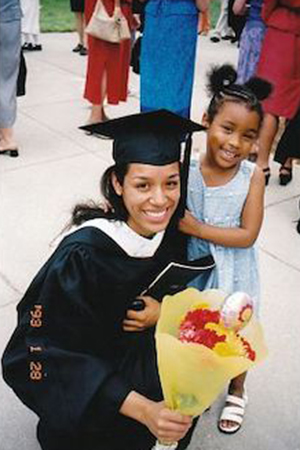 Generation Hope received $50,000 from Black Voices for Black Justice, and Lewis says participants in the nonprofit's programs will help decide how to distribute the grant in an effort to support student-parents and help colleges and universities better serve them.
In April, Generation Hope was also awarded $1 million from The 1954 Project's Luminary Awards, a philanthropic initiative launched by the Chicago-based Cleveland Avenue Foundation for Education to support Black leaders of education-focused nonprofits. The award named Lewis a "Luminary in Economic Mobility" and cited the effectiveness of Generation Hope's two-generation programming as well as its engagement of institutional and policy partners.
"In just 10 years, Lewis has created a truly unique and thriving organization that is gaining national attention for its whole-family approach to dismantling poverty," the announcement states.
"I was blown away by both of those honors and very excited to have the funds to be able to creatively address what we see as critical issues," Lewis says.
Generation Hope currently works with about 125 students in the Washington, D.C., metro area, and soon will begin exploring other cities and regions with the goal of expanding its services beyond the D.C. area by 2024. In addition, the nonprofit is assisting higher education officials in Tennessee and Maryland with improving services for student-parents.
The organization that Lewis began by herself now has 20 employees, with regular assistance from interns like Salmerón through the William & Mary Washington Center's D.C. Summer Institutes.
 This summer, Generation Hope is launching a FamilyU program with a two-year cohort opportunity for selected two-year and four-year-institutions to work together to transform their campuses to better serve parenting students.
 While William & Mary is not part of that cohort, Lewis says she is pleased to see her alma mater taking steps such as adding a lactation room and diaper-changing stations at Swem Library, as Tami Back, director of communications and strategic planning for W&M Libraries, describes in an interview with The Hechinger Report.
"That has been, like many institutions, slow in coming, but I think that those are encouraging things to see," Lewis says.
Generation Hope's Next Generation Academy helps to prepare the students' children for kindergarten by conducting developmental screenings and assessments during home visits and by working on cognitive, social and emotional skills. 
"There's such a powerful symbiotic relationship between the parents and their children's academic success," Lewis says. "In a college classroom, it's hard to concentrate when you don't know if your child is getting the academic support that they need, or if you even have food on the table that night."
In May, Lewis and her husband, Donté Lewis '03, celebrated the birth of their fifth child — a boy named Devin. That month also marked the release of "Pregnant Girl," which traces her journey from teenage mother and William & Mary student to nonprofit founder and CEO. She has talked about her personal experience and the obstacles Generation Hope is working to address during recent interviews with NPR and the Chronicle of Higher Education, among others, and she has written pieces for Ms. Magazine and The Atlantic. W&M Alumni Magazine published a profile of Lewis, titled "Raising Hope," in 2013.
Nerissa, the baby girl who accompanied Lewis to William & Mary, turned 22 in May. Now, she is in the final stretch of completing a bachelor's degree at Towson University and plans to pursue a career in business.
"She talked about that in her college in her application essays — that she spent the first four years of her life on a college campus, and so she always knew that college was in her future and that it was important," Lewis says. "I talked to her a lot about why I was working so hard to get my degree. I think that just shows the generational benefits of helping young parents and parenting students."