Posse Scholars begin 'momentous' journey at William & Mary
Last fall, William & Mary announced a partnership with The Posse Foundation to provide full scholarships to diverse cohorts of students, many of whom will be the first in their families to attend college and many of whom may not have otherwise seen the university as an affordable option. 
It was an unprecedented union, as W&M became the first university to select Posse Scholars from the Commonwealth of Virginia and the first school to select from a broader region instead of a single metro area. 
W&M's first cohort of Posse Scholars, appropriately named Posse 1, arrived on campus Aug. 25 after four months of virtual Pre-Collegiate Training. Multi-hour Zoom sessions consisting of various ice breakers, team building activities and other exercises brought the 11 students together throughout the spring and summer and helped them build strong connections despite not being able to see each other in person. 
The proof of these connections came when the students finally met each other face-to-face. 
Darie Levermore, a Posse student from Fairfax, and four other members of W&M's cohort arranged a get-together only days before they were scheduled to arrive on campus. They could hardly contain their excitement of seeing their friends and fellow Posse students in person for the first time. 
The five met up at an amusement center in Fairfax and enjoyed an evening of go-karts, laser tag and other activities, mixing in meaningful conversations while waiting in line or during breaks in between. 
"They're 10 times better in person," Levermore said of her new friends and classmates. 
The Posse Foundation is a national organization that identifies, recruits and trains teams of students who show extraordinary leadership and academic potential. It gained attention in 2010 when it was one of 10 organizations to receive a share of U.S. President Barack Obama's Nobel Prize award money.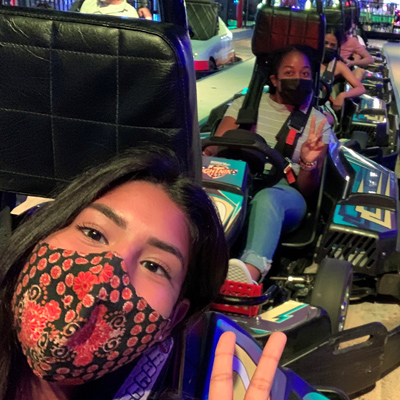 During the pandemic, Posse adopted a virtual platform to help its cohorts build connections. From March to July, W&M's Posse Scholars participated in Pre-Collegiate Training, or PCT for short, via weekly Zoom meetings. 
"PCT hit every point in terms of getting to know people, because we were able to talk about serious topics that are more difficult to have conversations about," Levermore said. "But we were also able to have fun and laugh for two hours straight in some of our PCTs." 
"What stood out for me is how well PCT worked," said Temiloluwa Abiodun, a freshman Posse student from the Richmond area. 
"That's a great part of this Posse. We all want to know each other more. We all want to be friends. We all want to understand each other more. I love how quick it was and how easy it was for us to be friends."  
That was a refrain spoken by Levermore and the other Posse students who recently met up for a fun night of games and conversation. At the end of the evening, the five sat down for a dinner of burgers, quesadillas and milkshakes and talked about their experiences over the previous months and what they were anticipating upon arrival at William & Mary. 
"We were just reminiscing about how far we'd come," Levermore said.  
Setting the stage
The Posse Foundation selected 20 W&M scholarship finalists from hundreds of candidates nominated by administrators, teachers and counselors at Virginia high schools. From that group, the W&M admissions office selected 11 scholarship recipients following a series of lengthy interviews. 
Most Posse cohorts consist of 10 students, but W&M selected 11 because "it was a very strong field," said W&M Vice President for Strategic Initiatives & Public Affairs Henry Broaddus. 
An 11-member cohort is "quite rare," said Augusta Irele, director of Posse's Virtual Program. "We love it when it happens." 
In the spring, William & Mary also selected a faculty mentor to work closely with the Posse Scholars upon arrival on campus. John Riofrio "Rio", a professor in his 13th year at W&M, was an easy choice, Broaddus said.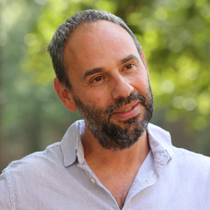 "Rio is an advocate for his students. He cares about students as people as well as learners, and he connects with them immediately and strongly," Broaddus said. 
Riofrio, W&M's Director of Hispanic Studies, participated in extensive training during the summer to prepare him for his role. He participated in multi-hour Zoom sessions and immersed himself in a 300-page mentor's manual. 
Being a mentor is a significant commitment. Riofrio will meet with the group each week for two hours and also meet with each student weekly. 
"I'm flattered and honored to be a part of this," Riofrio said. "You get these students who are incredibly inspiring and inspired, and I think that they've dealt with some really significant circumstances in some cases. Others have this really enthusiastic ample vision for who they want to be and what they want to do, and I think bringing that energy to campus makes us a better campus.  
"In addition, I think that because of the way that Posse is set up, you're bringing students that come from extraordinarily diverse backgrounds, and I think that makes a better institution."  
Abiodun said he cried when he was informed in March of the scholarship, "and I hadn't cried in years before this," he added. 
Abiodun and his family moved to the U.S. from Lagos, Nigeria, when he was 8 years old. 
"As an immigrant, you have to sacrifice so much in coming to a new country and giving up everything that you work and built for in your country, in your home. So for me, being a Posse Scholar, it allows me to kind of like give back to the people that matter to me the most, which is my parents."  
Abiodun's mother is going to school to become a Registered Nurse, and his dad works as an officer at a correctional facility. 
"I'm so thankful for Posse because I don't think I would have been able to afford college," said Abiodun, who has three siblings. 
Abiodun is active in his church and loves to play guitar. He has aspirations of becoming a pediatrician after college. He wants to be a friendly face and help children the same way his American doctors did for him when he was a young child new to the country. 
This giving spirit is common in Posse students. Levermore's parents grew up in Kingston, Jamaica, where she has seen first-hand the impact of poverty in significant ways. 
That's why she is so motivated to help low-income individuals, particularly young people. At the beginning of the pandemic, Levermore got involved in a student organization that worked with school board members to allocate resources to low-income students, helping them gain access to health care and food and other educational resources. 
And over the summer, Levermore worked with special needs and disabled children at a local elementary school. 
"Helping people is something I enjoy doing," she said. 
Being a part of the first Posse cohort at William & Mary is special to this group of 11. 
"We're setting the stage for all the Posses that are to come," Levermore said. "We can start things on campus that turn into traditions, or we can create change that future Posses can keep doing for the William & Mary and Williamsburg community." 
Momentous
Posse has partnered with 65 universities and facilitated scholarships for over 10,000 students from metropolitan areas nationwide, but William & Mary's cohort is the first selected from Virginia. 
"This really is momentous, and I can't underscore enough how excited we are that William & Mary has joined us to become our first partner university to enroll Posse Scholars from the Commonwealth of Virginia," Irele said. 
W&M has committed to a five-year partnership with The Posse Foundation. To cover the program costs and scholarships in future years, W&M is seeking support from alumni and other friends of the university who are committed to college access and student success. 
W&M has secured a sponsorship deal with Langley Federal Credit Union that includes a commitment for a two-year contribution in support of the university's program overhead for Posse. W&M has also received a number of donations to the W&M Posse Scholars Program that was launched in April around One Tribe One Day. 
"We have seen a lot of enthusiasm," said W&M Executive Director of Development for Scholarships & Special Projects Suzie Armstrong. "The level of interest in supporting first generation students in particular has really been growing, and that's a big part of the background of these students." 
W&M's Posse students bring a range of academic and leadership qualities and interests. Some are accomplished musicians and scientists. Some are interested in medicine and anthropology. Some are active in the church. 
"I think that's one of the things that continues to keep me at Posse, honestly, is within each cohort, we have this really beautiful range of young folks who come together and support each other in their various interests, and that starts in Pre-Collegiate Training and continues all the way through their alumni life," said Irele, who was a Posse Scholar at Bryn Mawr College and has worked at Posse since 2010. 
"My Posse alumni and I are still in touch. That support doesn't end when you graduate."