Operation vaccination: All interested members of the W&M community offered vaccination opportunities
More than 1,800 members of the William & Mary community, including about 940 students, were invited to receive COVID-19 vaccinations this week at the Greater Williamsburg, York County and Christopher Newport University clinics.
The vaccinations, administered through the Virginia Department of Health, are part of the university's efforts to vaccinate all interested students by the end of the semester. W&M has also been working with local health partners to offer vaccinations to all interested and eligible faculty and staff, including contractors, based on the operative vaccination phases.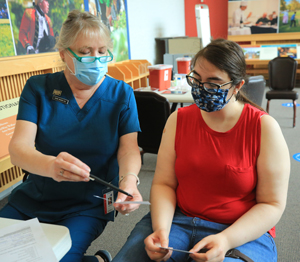 Virginia Gov. Ralph Northam recently announced that all Virginians who are 16 and older would be eligible for vaccinations by April 18, when the Commonwealth moves into Phase 2 of its vaccination program.
"We are grateful to our area partners for providing us opportunities to connect members of the university community with vaccination appointments.," said Corinne Picataggi, chief technology officer for W&M, who has been leading the university's vaccination efforts.
The people who received invitations for appointments this week had indicated their interest in receiving a vaccine. Because the clinics do not report back to the university, it is unknown how many of those who were invited received vaccinations. However, as of April 16, a total of approximately 1,833 employees and 3,889 students self-reported having received at least one vaccination shot, with 805 employees and 1,200 students being fully vaccinated.
"We want to make sure we're advocating for those who are interested in receiving the vaccine and still need it," said Picataggi. "Reporting your status — whether you've had it or don't want it or are interested — helps us know how many we still have to advocate for in our community."
Most of the W&M community members who had appointments this week received the Moderna vaccine. However, some who had appointments in York County on Monday received the Johnson & Johnson vaccine. On Tuesday, the Centers for Disease Control and Prevention and Food and Drug Administration recommended pausing the administration of Johnson & Johnson vaccines due to a small number of recipients reportedly experiencing blood clots. In an email to the university community, Amy Sebring, chief operating officer and COVID-19 response director, shared a link to guidance issued from the CDC for those who received a Johnson & Johnson vaccine.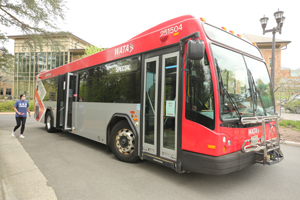 Sebring also noted that additional opportunities to receive the vaccine are expected in the coming weeks. Mid-week, W&M successfully partnered with Williamsburg Area Transit Authority to offer shuttle service for students to the Colonial Williamsburg clinic.
"With the Commonwealth increasing vaccine availability to all adults, we continue to work with our local clinics to connect as many of our faculty, staff and students who wish to be vaccinated with opportunities to do so," she said.
On Wednesday, the university began another round of census testing for all students living on campus and within 30 miles of it. W&M recently announced that those who are fully vaccinated are exempted from census and prevalence testing along with quarantine requirements, based on guidance from the Centers for Disease Control and Prevention. Those who wish to be exempted upload their vaccination information with Kallaco Health & Technology, W&M's COVID-19 logistics partner.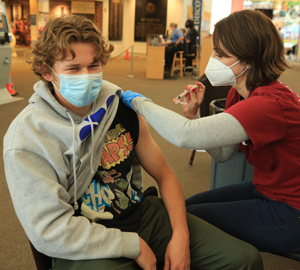 Picataggi encourages all members of the W&M community who are interested in getting vaccinated to indicate their interest and take advantage of the appointment opportunities.
"In addition to individual well-being, a vaccinated community will help us reallocate operational resources being used for things like testing and quarantine to other areas so we can resume strategic planning and focus more fully on those goals," she said.
In her
April 13 email
, Sebring gave kudos to the university's students for their efforts to mitigate the spread of COVID-19. As of April 16, the university's
dashboard
reported a total of 11 active cases among students and two active cases among employees.
"We've seen a dramatic turnaround in our positive cases and in the number of students who are in quarantine as close contacts," she said. "The current numbers are reassuring and suggest that, as long as we remain diligent, we can meet our goal of having an in-person Commencement to celebrate the close of an unforgettable year."