Lighting the Kimball: W&M Theatre gets creative in temporary home
Patiently working one light at a time, Steve Holliday guided William & Mary students in installing the lighting for the theatre department's production of Moliere's "The Imaginary Invalid."
"This needs frost with the color, please," he said, at one point.
"Center it on me where I stand," went another directive.
Recent afternoons found Holliday standing in various spots on the Kimball Theatre stage directing students either in the wings, on the catwalk or up on pneumatic lifts where to aim the lights. Once focused and in the optimum spot, students would then lock the light into the position it will stay in for the remainder of the production.
"I've been focusing lights for about 50 years, so some things that are instinctual to me have to be taught," said Holliday, professor of theatre and lighting designer for the department.
"The Imaginary Invalid" will run Nov. 18-21 at the Kimball and will feature theatre's new TSD Cares ticket program. Local healthcare workers may purchase pairs of tickets for a discounted price of $7 each.
The comedic show poking fun at hypochondria, medicine and theatre itself posed the challenge of lighting the interface between Moliere's written scenes and largely-improvised clown scenes, Holliday said. That sometimes meant finding ways to quickly support a joke with lighting, such as having a chandelier that looks perfectly normal for most of the show suddenly do something funny.
 The Kimball's limitations call for creativity. Theatre is temporarily performing there while its newly renovated and expanded Phi Beta Kappa Memorial Hall is being completed.
"The Kimball was originally designed as a movie theatre," Holliday said. "Things are more restrictive here, and it's not equipped as PBK was with circuits and places to hang lights. But it sure is nice to have a theatre to work in while we're waiting for our new space."
Students in Holliday's Introduction to Stage Lighting and Stage Lighting Design courses do the lighting for theatre's two productions each semester. For the beginners, this means hanging and circuiting the lights, and then focusing each one. The more advanced students also work on the shows and in some cases actually are involved in the creative process, making it a large area for student research.
"Lighting design's great fun for me because it rides the line exactly between art and science," Holliday said. "Everything we do, we do for artistic reasons, but the only way we can do it is to make use of technology. So you're deeply into data science and material science and engineering.
"And then a lot of your design decisions end up involving your understanding of biology. Because people literally respond psychologically and psychophysically to light. And your understanding of those things is key."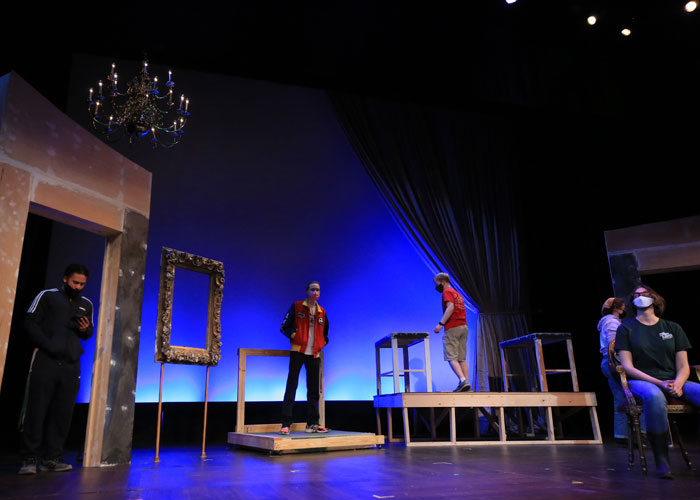 Working in the Kimball allows for teaching any number of adaptive techniques. Holliday pointed out that lights will be on the sides of the stage for the upcoming show, which is a little unusual but falls in line with the somewhat-uncontained clowns who are featured.
"It's a very, very important aspect of theatre that you try not to do anything the same way twice, that we're always improvising a new solution or trying to figure out a new way to approach a similar problem," Holliday said.
"So where can I put a light that I've never put one before? How can I use lighting in an unusual way?"
Students come into the classes with varying levels of knowledge and proficiency, but help one another alongside Holliday's measured guidance. In his experience, students in the last few decades start out less able to do things with their hands, but are much more versed in the use of technology.
Holliday uses an iPad to log every light by number and controls them from there. The connections include 96 dimmers in the theatre and 15 separate channels on each of the stage-side lights that control colors and brightness.
"Everything's numbered, everything's catalogued, everything's very carefully organized," Holliday said. "It's just one of the necessities of stage lighting because you have to be able to say: I want to bring up that light and bring that light up and nothing else."
Registering for and attending events at William & Mary conveys a shared expectation of abiding by university policy, which is subject to change as conditions warrant. As of September 21, 2021, those requirements include appropriately masking indoors in shared spaces, except when actively eating or drinking. Masks outdoors are optional and encouraged in large gatherings. COVID-19 vaccination is required of all William & Mary students, faculty and staff, and it is strongly encouraged for all external visitors in alignment with Centers for Disease Control and Prevention guidance. We create these shared expectations of event participants in keeping with William & Mary's core values of Belonging within this community and Respect for one another as individuals, and in recognition of the risks inherent to gathering amid pandemic.