Ideal Muslim subjectivity: W&M professor presents two views in new book
Faraz Sheikh, assistant professor of religious studies at William & Mary, has published a new book, "Forging Ideal Muslim Subjects: Discursive Practices, Subject Formation, & Muslim Ethic," which discusses the forms a religiously-informed, ethical Muslim life can take.
The work discusses two figures — 9th century moral pedagogue al-Harith al-Muhasibi and 20th century Kurdish Quran scholar Said Nursi — reconstructing their accounts of ideal Muslim consciousness and analyzing the discursive practices implicated in its formation and expression.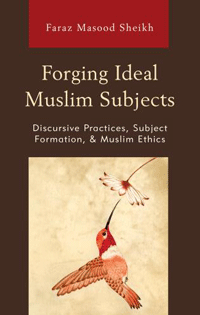 Building on his doctoral dissertation work on Muhasibi's views, Sheikh continued to analyze the author's works in dense, classical Arabic. Sheikh's book is only the second monograph in English to focus on Muhasibi's teachings and one of only a few to study Nursi's teachings.
"It gives English-speaking scholars of religious ethics access to previously inaccessible Muslim ethical thought and practice," Sheikh said. "It opens avenues for further research into Muslim ethics and anthropology and is also a model for work in comparative religious ethics involving Muslim thought in relation to modern political and social ethics."
W&M News asked Sheikh to share more about the project.
What is new here?
My book is one of a handful of scholarly studies of what religious ethicists call "subjectivity" and "practices of subject-formation." It is new in terms of its method — it focuses on different forms-of-life made possible by particular religious discourses — as well as its content. It gives an in-depth view of two important accounts of what it means to be an ideal or excellent Muslim, how a Muslim becomes such a person, what kinds of ideas and relations might impede the attainment of the ideal and how those impediments might be overcome.
In terms of method, scholars have typically read Muslim religious discourses in very flat ways – as repositories of antiquated debates and claims about God, human nature and the purpose of life. My book looks beneath mere appearances to uncover how these discourses are pedagogical and psychagogical tools and practical strategies for the formation and transformation of specific psychic, cultural and ethical dispositions and attitudes.
My book illustrates how discourses function as practices of self-formation and thus explains how what might otherwise seem to a modern eye as incoherent and irrational has a deep psychological appeal, moral efficacy and cultural relevance. In terms of substance, the book gives us a synoptic view of two important accounts of what it means to be an excellent Muslim person and how one becomes such a person.
We get Muhasibi's and Nursi's account of ideal Muslim subjectivity, and this allows us to see how their theoretical accounts compare and contrast with accounts of Muslim selfhood that anthropologists of Islam and Muslim societies are rapidly producing. My book then is also a work of social criticism – it can help us evaluate how particular Muslims and Muslim communities live up to, or fail to live up to, the ideals elaborated by important intellectuals of the tradition.
Why did you decide to study ideal Muslim consciousness?
I think consciousness, and also what some might call the sub-conscious and the unconscious, is one of the most abiding and interesting puzzles in both the natural sciences, as well as the humanities. Modern and post-modern philosophy and psychology have said much about it.
But what we call consciousness has been the subject of inquiry and curiosity for a very long time. I wanted to study how pre-modern religious thinkers thought about what we call consciousness, its nature, its formation and its role in the ethical life of Muslims.
Also, there is a lot of interest today in understanding what "being Muslim" is all about – what kinds of commitments and ideals are the authentic core of Muslim identity and which features are more contingent and peripheral. I was interested in providing English-speaking readers access to different influential accounts of what it has meant to be a good Muslim at the level of individual consciousness and self-other relations.
The study of consciousness is really a study of not only the inner life of a person but also the cultural life of a community. Individual psyche shapes culture and vice versa.
What can we learn from this?
What a reader learns from this book depends on what interests them most. One thing is we can learn that premodern religious discourses are not the flat, uninteresting, abstract discussions that many in the secular academy take them to be. Religious discourses, even at their most abstract, are actually pedagogies of everyday ethical living and self-understanding.
Our interest in religious discourses should not then just be historical and philosophical, but also ethical and contemporary – religious discourses are a rich source of culture just as culture is the source of authoritative discourses. We can learn how particular ideas manifest as lived states of the psyche and particular cultural attitudes and vice versa. This can help us better understand and critique contemporary Muslim self-understandings and culture in the tradition's own terms.
What conclusions did you reach?
One important conclusion I reached was the discovery that Muslim thinkers I studied have been more keenly aware of the problems of self-righteousness and self-assuredness in matters of faith than many of their counterparts in other traditions and also other Muslim thinkers.
Their teachings offer us interesting insights into how one would simultaneously cultivate deep moral commitments while struggling against self-assuredness and closed-mindedness. The thinkers I studied realize the importance of both certainty and humility in matters of faith and offer strategies to balance them in ways that avoids the ethical pitfalls — for instance intolerance towards the religious other — of too much certainty in matters of faith.
I also found that there are indeed many ways of being Muslim in the world. And there are important conceptual and interpretive choices that Muslims can make, and these choices can then shape practical and ethical attitudes in very specific ways. It became clear to me that Muslim ethics cannot be studied without attention to Muslim moral psychology and Muslim conceptions of human nature and the nature of existence as a whole.