Cynthia E. Hudson named to Board of Visitors; Warren Buck to become special advisor for equity in the 21st century
Former Va. chief deputy A.G. succeeds Warren Buck, who transitions to advisory role
Former Chief Deputy Attorney General of Virginia Cynthia E. Hudson J.D. '87 has been appointed to William & Mary's Board of Visitors, Virginia Gov. Ralph Northam announced today. Her four-year term begins July 1. 
In addition, Rector John E. Littel P '22, Doug Bunch '02, J.D. '06, Brian P. Woolfolk J.D. '97, and Anne Leigh Kerr '91, J.D. '98, were reappointed to four-year terms on the board. Littel, who also serves as chair of the Executive Committee, was re-elected to another two-year term as rector at the board's meeting May 12. 
Hudson will succeed Warren W. Buck III M.S. '70, Ph.D. '76, D.Sc. '13, who has agreed to a new volunteer role as special advisor for equity in the 21st century to President Katherine A. Rowe. In this role, Buck will work directly with Chief Diversity Officer Chon Glover on special projects and serve as a liaison between the administration and campus communities. He will also serve as a sounding board to Rowe and university leadership on efforts to strengthen innovation and equality across the institution.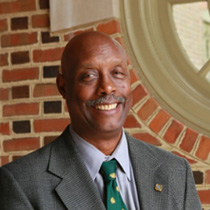 "Warren is one of our most distinguished alumni, whose commitment to education and promoting inclusion and equity at William & Mary began roughly five decades ago when he was a graduate student and student activist. Through his distinguished career as a teacher, scholar, mentor and ultimately a university chancellor, he has led positive institutional change with grace. Over the past two years, Dr. Buck has served as a valued member of the university's governing board and guide to me, as I have come to know William & Mary," Rowe said. "I am thrilled he has agreed to this new, important role as we commit to pursuing innovative ways to advance equity at the university." 
"We simultaneously welcome Cynthia enthusiastically," Rowe continued. "She brings to William & Mary broad expertise in the law, a deep understanding of the commonwealth and a bottomless commitment to service. She will make an extraordinary addition to the Board of Visitors, the excellence of which is assured with the reappointments of Rector Littel and Doug Bunch, Brian Woolfolk and Anne Leigh Kerr."
Bunch serves as the chair of the Committee on Academic Affairs and is a member of the Committee on Student Experience and the Committee on Financial Affairs. Kerr is the vice chair of the Committee on Institutional Advancement and is a member of the Committee on Academic Affairs and the Committee on Financial Affairs. Woolfolk serves as the chair of the Committee on Audit, Risk and Compliance and is a member of the Executive Committee and the Richard Bland College Committee. 
Buck was appointed to the board in 2016 and served as vice chair of the Committee on Administration, Buildings and Grounds. He was also a member of the Committee on Academic Affairs, the Richard Bland College Committee and served as the board liaison to the Monroe Legacy Working Group and the 1619-2019 Commemoration. 
The 17-member board, currently led by Littel, is the governing body of the university. 
"Warren's brilliant insights, dedication and passion have been a real gift to the William & Mary Board of Visitors and to me personally," Littel said. "We aspire to produce graduates who change the world through excellence, service and commitment, and Warren embodies that.  The board is indebted for his service and contributions. William & Mary is so fortunate to have Warren, and this new role comes at a critical time for our university. He will be invaluable to our collective commitment to stand together to combat racism and strengthen equity. 
"I also very much look forward to working closely with Cynthia, another devoted and experienced member of the alumni community, and am thankful for her willingness to serve this community at such a critical time for higher education. Additionally, I am delighted to continue working closely with Anne Leigh, Doug and Brian, who have all contributed significantly to William & Mary and the board's success." 
Cynthia E. Hudson J.D. '87 
Hudson has had a highly decorated career in law and public service. Since March, she has worked in the government group of Sands Anderson Law in Richmond, where she has specialized in representing local and state government clients. 
Previously, she served as chief deputy attorney general of Virginia for six years, managing the day-to-day legal service and administrative operations of the Office of Attorney General Mark R. Herring. Many of her notable achievements while in office centered around equality, opportunity and criminal justice. 
Before her appointment as chief deputy, Hudson served eight years as the city attorney in Hampton. 
Early in her career, Hudson worked in private practice with a focus on labor and employment. She taught as an adjunct professor in state and local government law at the William & Mary Law School in the spring of 2011 and also served as an adjunct faculty member at the University of Richmond in the fall of 1991. 
Her extensive time as a public servant includes her current position as chair of the Governor's Commission to Examine Racial Inequity in the Law. Moreover, she recently served as a member of the Virginia State Crime Commission and co-chair of the Governor's Commission on Diversity, Equity & Inclusion. 
Hudson was president of the Local Government Attorneys of Virginia and also served on the boards of many nonprofit organizations, such as Transitions Family Violence Services, Riverside Behavioral Health Center, the Boys & Girls Club of Greater Hampton Roads and Peninsula Metropolitan YMCA. 
Among her many career accolades, Hudson was named to Virginia Lawyers Weekly's first Class of Influential Women of Law in 2019 and was also awarded as the Oliver Hill Civil Rights Leader by the Richmond Chapter of the NAACP in 2018. She was inducted into the Virginia Law Foundation as a fellow in the class of 2015. 
Warren W. Buck III M.S. '70, Ph.D. '76, D.Sc. '13 
Internationally known for his work in physics and physics education, Buck is a professor and chancellor emeritus of the University of Washington, Bothell (UWB). He became the first chancellor of UWB in 1999 and during his tenure helped it grow to a four-year institution. In 2006, Buck returned to the faculty as professor of physics and in 2009 became the first director of UWB's Science and Technology Program, now the School of STEM. 
Prior to joining UWB, Buck was a prominent member of a team that established the scientific program at the Department of Energy's Thomas Jefferson Accelerator Facility and was the founding director of the Nuclear/High Energy Physics Research Center of Excellence and a professor of physics at Hampton University. 
In 2018, Buck was named among the 2018 Strong Men & Women in Virginia History by Dominion Energy and the Library of Virginia. He serves as an adjunct professor of physics at W&M. 
Buck is also an emeritus member of the Board of Trustees of the Pacific Northwest University of Health Sciences, where he chaired its Academic Affairs Committee. 
As a graduate student at William & Mary, Buck received a National Science Foundation fellowship and was founding president of William & Mary's Black Student Organization. He served on the Alumni Association Board of Directors from 1998 to 2004, including a two-year term as the board's secretary. In 2006, he delivered the keynote address at William & Mary's Opening Convocation, and in 2013 the university awarded him an honorary Doctor of Science degree at Commencement. 
Todd Stottlemyer '85, who served as rector from 2013 to 2018, called Buck a pioneering civil rights leader, accomplished scholar and said he is ideally suited to serve as special assistant. 
"Warren's courage as a graduate student at William & Mary to speak truth to power for the cause of racial justice and human equality is an example to us all, particularly at a time when the country is engaged in a debate about the evils of racism," Stottlemyer said. "I was deeply honored and privileged to lead the Board of Visitors and learn from Warren's example and gentle and humble spirit. I will always cherish his eloquent and beautiful words and deep-seated emotions when the Board unanimously passed a resolution acknowledging and apologizing for William & Mary's role in slavery, segregation and Massive Resistance."