Crawford and her video crew help keep W&M traditions flourishing, despite pandemic
Looking back, you can see how Lisa F. Crawford's career path began at an early age. With her father often deployed in the Navy, documenting events from back home with an RCA camcorder became the norm.
Then came Landstown High in Virginia Beach, where she was part of the broadcast team. Then Virginia Commonwealth University, where she graduated with a degree in broadcast journalism and became the senior producer for VCU-TV/HD, a television production operation that produced programming about the university.
Then came working on Steven Spielberg's film "Lincoln." In the credits, she is listed as the production secretary.
In the summer of 2013, Crawford came to William & Mary as a senior videographer & multimedia producer. A year later, her title became director of video & multimedia production. She heads a five-member team that is responsible for media production services for the university.
Since the pandemic forced most in-person events to go virtual, Crawford's role has faced numerous challenges. In addition to normal responsibilities, videography services also is part of a team handling special events like Opening Convocation, Commencement and — coming Dec. 12 — the Yule Log celebration.
There have been challenges, but Crawford's team and collaborators from across campus — including staff from University Events, Student Affairs and other offices — have found creative and innovative ways to keep the university's time-honored traditions going.
This interview has been edited for length and clarity.
How has the pandemic changed how videography services does its job?
When everything went virtual, one of my first concerns was how this would impact video and the work my team produces. At one point, I even thought, "Man, are we even going to be busy?" But I realized pretty quickly that was not something to be concerned about.
Once the decisions were made that the university was virtual and things like Commencement were going to be virtual, we knew a large part of our job was going to be how we shifted programs to virtual events that would keep people engaged with the university.
William & Mary has many traditions, most of which are no longer in person. How is your team adapting?

We come to the table and say, "What are the elements we have to have? What is something special we can do to make this experience unique?"
What have you done to make it unique?
One example is Commencement. We knew it was important to find ways to congratulate the students that would be a little unique. So the opening started with congratulations from alumni and faculty and staff. We wanted the students to feel there was a community behind them that was celebrating them even if it was virtual.
The other element was, how do we bring more students into the ceremony? That was as simple as when "Our Alma Mater" plays, we're showcasing photos that students submit. We were surprised at the number of students who submitted photos. We repeated a verse to allow for more time and more photos. Then at the end, we brought photos in again because we wanted to make sure anyone who sent in photos would see themselves.
Did you push yourself to find ways to make this once-in-a-lifetime event memorable for them?
With anything we've produced since March, we've constantly evaluated how to make things better and use our medium as a way to communicate William & Mary's message to the community. It is stressful because every week, my team is trying to brainstorm something new.
But it also showcases a real commitment to the work and the community. At the opening of the academic year, we decided to create a video that would highlight years past and look toward the future but also speak to the community about the commitment we all have to each other. Trying to find a different way to approach that was something I was really proud of with my team.
The Yule Log Ceremony is fast approaching. How's it coming along?
It feels like it's been a really big project because it's one of those events that's near and dear to everyone's heart. How do you create that in a way people will be happy with? I don't think everyone's going to be happy with having to celebrate Yule Log from their homes, but finding ways to make that unique or have the same type of magic you have on campus, that's the challenge. I think we're going to live up to the challenge.
I hope people respond well to it. We're trying to add a few things that people wouldn't have experienced in-person. A lot will be the same, but a lot will be different. We do the log precession, but the log was cut into 18-inch sections so each student would be carrying one seven feet apart into the Wren Building.
How have safety guidelines affected how you and your staff do projects?
That's something we've put a lot of consideration into. Not only do I want to make sure my team feels safe and protected while they're on set, but also the people, our community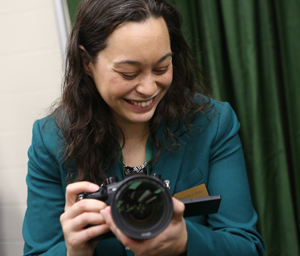 members, who might be involved. So we've come up with production guidelines for the team, and we've shared it with other people on campus as needed.
One of the questions we get when we go into a production now is, "Do I take my mask off?" And our answer is always, "If it's a closed set and we're appropriately distanced, then you may be able to take your mask off." But there are a lot of rules and regulations we've put into place to figure out what a "closed set" means and when is an appropriate time for somebody to take off their mask for a shoot.
In the past, we would allow for more people on set. For example, if it was a stakeholder who wanted to be a part of the interview for messaging purposes. Now, if you don't have to be there, you shouldn't be there. And there's the adjustment of interviewing people virtually because we can't travel the way we used to. Our colleagues understand these are the limitations we're presented with and the quality of video might suffer a little bit.  
Last question: Did you meet Daniel Day-Lewis on the set of "Lincoln"?
No, I avoided him at all costs because he's a method actor. If you're going to speak to him, you had speak to him as if he was Lincoln. That's just way too much pressure. But it was very cool to walk on set and see him. Even with the distance, he was quite a presence — especially dressed as Lincoln.