W&M makes history at Ranger Challenge
If 10 hours of intense physical activity against some of the region's top ROTC programs weren't enough to take down William & Mary, the suspense might have done the trick. 
W&M's team waited, the cadets' stomachs in knots, as the top finishers of the All-American Brigade Ranger Challenge were announced in descending order. Ten. Nine. Eight. W&M waited to hear its name. Seven. Six. Five. Did the Tribe not do as well as it thought? Four. Three. Something had to give. 
Then second place was announced. William & Mary's name was called, setting off an emotional celebration. 
"When we heard second place and William & Mary, that was a very emotional moment for everybody," said cadet Jonna Reinhardt '07, an Army Ranger Sgt. 1st Class who is enrolled in the Master of Business Administration program at William & Mary's Raymond A. Mason School of Business. 
The Tribe, competing as a standalone team for only the second year, placed second out of 48 teams at the Ranger Challenge on Oct. 20 at Fort Pickett in Blackstone, Virginia. The event starts with a three-mile run and includes more than a dozen challenges, from ruck marches to skills tests, over an 18-mile course. 
Each challenge is worth up to 25 points, with additional points awarded to the first 10 teams to finish the course. 
W&M finished behind James Madison University by only two points and ahead of third-place N.C. State by a single point. 
"We were so close it was painful," Reinhardt said. 
The top-two finish qualified William & Mary for the 52nd annual Sandhurst Military Skills Competition at the U.S. Military Academy in West Point, New York, April 17-18. Sandhurst is an ultra-exclusive competition involving roughly 50 teams from around the world, including 16 ROTC programs.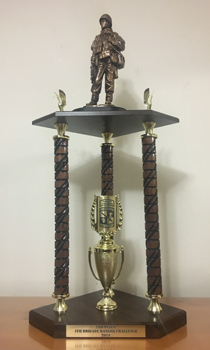 This will be the first Sandhurst appearance for W&M. 
"It's one of those things where if you run the Ranger Challenge 10 times, we may have won eight out of 10 times. It's just the way it played out," Reinhardt said. "So Sandhurst is a chance for us to go head-to-head with James Madison again, along with 15 other ROTC programs. And now let's really see how we shake out." 
Reinhardt is one of 12 team members for William & Mary. The other cadets are captain Ryan Fameli '19, associate captain Mackenzie Corcoran '21, Jessie Clatterbuck '21, Erin O'Hara '21, Ethan Thayer '21, Elliot Larson '21, Sam Hawkins '22, Sam Updike '22, Sam Lu '22, Parker Ennis '22 and alternate Dylan Gurl '23. 
"To compete that well just goes to show you how much effort was put into the training, into the preparation that these young men and women do," said Lt. Col. Dustin A. Menhart, chair of W&M's Military Science program. 
"It's a lot of early wake ups, a lot of weekends, a lot of late nights. For them to have that kind of result was overwhelming because nobody expected them to be in the top five." 
William & Mary's ROTC program has grown significantly in the last few years, allowing the university to beef up its Ranger Challenge team. 
W&M and Christopher Newport University partnered together for several years in the Ranger Challenge as members of the combined Revolutionary Guard Battalion, but they have competed independently the last two years. 
William & Mary finished 10th as a standalone team last year, while CNU finished fourth. It was the first time two teams from the same battalion finished together in the top 10. This year, W&M and CNU finished second and 16th, respectively. 
Second matches the highest finish by a Revolutionary Guard Battalion team. 
"When they announced second place and our name was called, our excitement was immeasurable," Corcoran said. "We aren't like most teams. Our physicality is not the same, but we come from William & Mary, a smart school, and that gave us the advantage in this year's competition, shocking people and even ourselves." 
Reinhardt is in his second year in the Ranger Challenge program. He received his undergraduate degree from William & Mary and could have joined the Army as a commissioned officer, but he enlisted with the aspiration of becoming an Army Ranger. 
He spent 10 years in the Army, doing seven tours of duty in Afghanistan with the 1st Ranger Battalion, before returning to W&M to get his MBA through the Army's Green to Gold scholarship program. Upon receiving his master's, Reinhardt will return to the Army as a commissioned officer. 
Needless to say, he's been a tremendous asset to the ROTC program and Ranger Challenge team. 
"This year, Jonna Reinhardt was my mentor, my motivator and my teammate," Corcoran said. "Having a Ranger on the team has, to say the least, been the best thing that happened to William & Mary's Ranger Challenge team. Jonna stays humble and allows Ryan Fameli and me to still lead the team while he takes a back seat and helps us only when called." 
Reinhardt assisted Fameli and Corcoran in devising a strategy for this year's Ranger Challenge. They created a training regimen that emphasized fast running with heavy backpacks and equipment, aka "rucking," for long stretches of time. 
That preparation paid off during the competition. William & Mary was the third team to cross the finish line, earning it precious bonus points. 
"Last year, we missed two of the stations just because we didn't get to them in time before the clock ran out," Reinhardt said. "So we went about rucking a lot more, rucking a lot faster, pushing people to do everything expeditiously." 
W&M's training will ramp up again soon, as it prepares for Sandhurst in the spring. 
Ranger Challenge is a 10-hour event that covers 18 miles. Sandhurst is a 36-hour competition over a course of more than 30 miles against the best teams in the world. The degree of difficulty increases significantly. 
"I would wager to bet we are the smallest program to compete in the Sandhurst Military competition," Fameli said. "The William & Mary ROTC program currently has 49 cadets, 12 of which are on the Ranger Challenge team. Compare this to programs we are competing against like University of North Georgia, last year's top ROTC team at Sandhurst, that has a pool of more than 700.  
"We will be competing against international academies and ROTC programs that are 10 times the size of the program we have here at William & Mary, so the competition will be tough for sure. However, our small team was able to beat out over 45 other teams in October, and we are ready to perform again in the spring."