Unexpected path brings Army vet to W&M
Charles "Chuck" Williamson '21 thought he was going to be in the Army for longer.
"Getting out was one of those things where I didn't have a good idea what I wanted to do," he said. "I thought I was going to be in for a lot longer and I'd have more time to figure it out."
After enlisting in 2014 right out of trade school, Williamson served in the infantry with the 3rd Brigade 10th Mountain Division as part of the scouts and reconnaissance section. His service took him all over the country and across the world.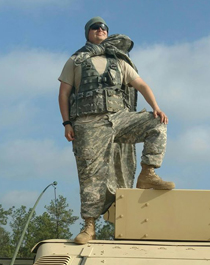 But after a medical retirement from injuries sustained during his service, Williamson found himself at a crossroads. Before his retirement, he planned on returning to his hometown of Richmond. Instead, Williamson found himself applying to William & Mary, a choice that he ultimately was grateful for. To attend an institution like William & Mary, Williamson said, would carry a lot of weight, and he knew the education and opportunities afforded at William & Mary would be beneficial.
His experience in the military led him to declaring a government major.
"It just played into a lot of what I know and what I'm interested in and what I'm good at," he said. "I was very much a classical studies person in high school."
Going from high school to trade school to the military to back to being undergraduate was a unique experience for Williamson.
"I call it Freshman Year A when I was in upstate New York going to the Albany College of Pharmacy and Health Sciences when [I] was fresh out of high school," he said. "Now, I come back slightly older than everybody else."
Although his non-traditional status gives him more experience than many other students at the university, Williamson remains humble.
"I see a lot of parallels between what my group and everybody was going through when I was in undergrad freshman year to now," he said. "It's different with perspective."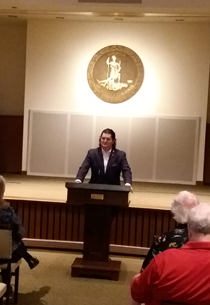 Being a student veteran at William & Mary is well-supported and fruitful, Williamson says. With fellow support from the Office of Student Veteran Engagement, and under the leadership of veteran Charlie Foster M. Ed '17, Williamson says he feels cared for as a student veteran.
"From what I've seen, the veterans stick together, which is good. But support is very good and getting better with the faculty," he said.
Williamson continued by saying he was surprised by how many faculty either have had military experience or are connected to someone who does, a fact he finds warm and welcoming.
Outside of W&M, Williamson is involved in several writing projects through the Virginia War Memorial Foundation, including "The Mighty Pen," which "generates, preserves, shares, and honors stories written by military veterans and those touched by their service," according to its website. The writing seminar, offered every semester, is operated by W&M alumnus David L. Robbins '76, an author and professor at Virginia Commonwealth University.
Williamson said that Veterans Day is not only in the W&M community, but beyond the confines of campus.
"It's an opportunity for fellowship (because) it's a group of people united by a singular experience," he said.
Williamson encouraged the William & Mary campus and community to take great efforts to honor the meaning behind Veterans Day and what veterans have done for the country
"Be an institution worth fighting for," he said. "Everybody wants to thank me for my service. Be an American that's worth fighting for."