Students collaborate to present first 'Stepping Into Excellence Black Expo'
Trinkle Hall at William & Mary was bustling with music, creativity and entrepreneurial spirit Feb. 1 in an event that highlighted the celebration of Black History Month and the collaboration of William & Mary students.
The inaugural "Stepping Into Excellence Black Expo," hosted by the Center for Student Diversity, the Black Student Organization and E.S.S.E.N.C.E. Women of Color, gathered community members to give representation to student entrepreneurs and black business owners in the Williamsburg area.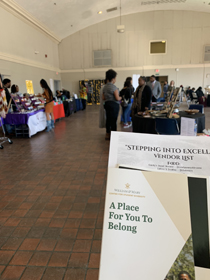 The event featured business owners who engaged in everything from leadership development for fellow entrepreneurs to knitting in support of human trafficking survivors.
Briana Childs '19, geology major at William & Mary, was one such student entrepreneur. With knitted garments of various colors and patterns spread across her table, she arrived at the exposition to promote her company, "Knots for Natalie." Her two-year-old organization originated out of an enthusiasm for knitting and a desire to give back to her community.
"I figured I wanted to learn how to knit and crochet anyway, so I just started learning," she said. "I wanted to support human trafficking survivors, so I decided everything I made was either going to be donated to Latisha's House in Williamsburg or the money I made was going to go there."
She expressed her excitement for the event's presentation of the community's diversity and the accomplishments of small businesses. According to Childs, the awareness that the event would raise was significant.
"Today's event is really important," said Childs. "Seeing all of the black-owned businesses — I had no idea there were so many," she said. "These things are made with black people in mind. The hair products and body products here are made considering our hair types and skin types. It matches better."
For Dayvondria Braxton, the event was an opportunity to showcase "Braxtie's Boutique," her nonprofit that creates wigs and eyelashes to support cancer patients experiencing hair loss. She expressed her enthusiasm for the exposition, as a passionate advocate for her fellow black business owners.
"I just love the fact that we're out here doing good things in the community," she said. "I would definitely come back and I definitely support that."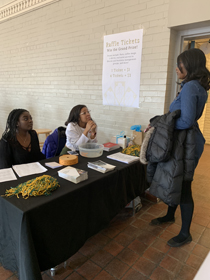 The students who assisted in the event's organization shared relief and gratitude that their work came to fruition.
Jeremy Simmons '21, anthropology and kinesiology major and member of the Black Student Organization's executive team, explained that the hard work of and partnership among black student groups made the event possible. Their successful collaboration, he described, shined a light on a community that has the potential to be invisible to students.
"There's no knowledge sometimes about black businesses," he said. "It's important to bring a sense of culture and a sense of heritage into our work ethic and into products that the community can use. The more black businesses we support, the more our community can enjoy."
Niya Gray '19, president of the Black Student Organization, organizer of the event and an anthropology major at William & Mary, echoed Simmon's sentiment, grateful for the hard work of her peers.
Gray said they wanted to create an event that celebrated community diversity and provided a networking opportunity for small, black-owned businesses. Due to the extensive planning carried out by students and the enthusiasm of company participants, what began as a thought that Gray experienced during a dream became the inauguration of an annual awareness event for black-owned organizations. Witnessing the success of the event's first occurrence, she expressed hope and anticipation for the future.
"We have a pretty good participation rate, considering this is our first time," she said. "We hope to make this bigger and bigger — so big we have to have in Kaplan Arena or off-campus."
Assistant Director of the Center for Student Diversity Shené Owens, who helped organize the event, described the origin of the idea as a student entrepreneurship awareness event. She identified the significant work of students like Childs and wanted "to give them shine," she said. When the Black Student Organization proposed including black-owned businesses, she explained, the event expanded to providing both awareness and access.
"This event is especially important for our students because students wouldn't have access to get to many of these businesses," said Owens. "It's important we make sure our students know these businesses exist and they're in our area."
Gray also stressed the significance of the awareness created by an event like the expo. She said she wanted to create a forum for networking that might not otherwise exist and celebrate diversity in the community that might otherwise go unrecognized.
"We're here," she said. "And we're strong."