Procurement receives award for excellence
William & Mary's Procurement Services department recently received the 2019 Achievement of Excellence in Procurement Award from the National Procurement Institute.
According to the NPI website, the award is presented annually to organizations that demonstrate excellence in innovation, professionalism, productivity, e-procurement and leadership.
"It's very rewarding," said Erma Baker, director of procurement services. "This is the first time William & Mary ever submitted."
Procurement Services establishes contracts with vendors and suppliers to obtain goods for various departments across campus, and relationships are vital to its work, said Baker.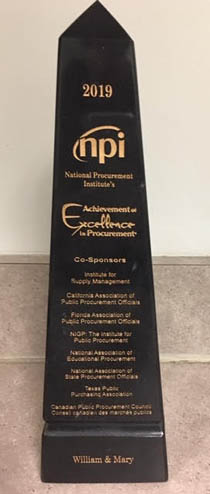 "It's important to us to know our clients around campus, know the major stakeholders, whether that is IT, library, VIMS or facilities, and really get to know them and try to think forward and know what's coming down the pike," said Baker. "How can we make things better, not only cost savings and value, but more efficient? Can we help everyone out there that's in departments trying to do the work and make it better, easier, more efficient?"
Efficiency is the name of the game in procurement. For Baker and her team, improving the systems in place, as well as navigating the budgets and funding they have, is crucial.
The university's relationships with other state institutions is also important to the work of Procurement Services.
William & Mary is part of a group of higher education institutions that work closely with similar vendors and contractors, as well as other state agencies, which results in cost savings. And since William & Mary is a public institution, taxpayers see their dollars at work through the funds the university receives in these transactions.
"We have laws that guide us on methods of procurement," Baker said. "We have a team that is well-educated on those laws and certifications to demonstrate that they understand and apply the knowledge."
Baker and her team knew they had it in them to apply for this prestigious national award.
"From the moment that I stepped in the door, met these folks, had an awareness for the talent-level here and the passion and the dedication, we have been working together to improve systems and outcomes and try to make a difference," she said.
An application for the Achievement in Excellence in Procurement Award includes an extremely detailed report of all of the numbers, factors, contracts and systems put in place with each institution's Procurement Services. This evaluation assesses whether or not an institution has a well-oiled machine in place to procure goods and services for the school, district, institution or city. William & Mary's submission itself included "detailed evidence of effective performance measures, customer service efforts, vendor management, use of technology, adoption of ethical standards, involvement in the profession, certification levels and education of staff, continuous improvement efforts, and more," according to Baker.
The team at Procurement Services evaluated the likelihood of eligibility before even considering submitting an application for the NPI award.  Having established a five-year procurement strategic plan, complete with six pillars of strength and values, and with two years of progress under their belt, the team decided to toss their hat in the ring for consideration.
William & Mary is one of 8 recipients of the esteemed award in the commonwealth of Virginia, and one of 24 higher education recipients nationwide.
The group is already talking about submitting again, said Baker.
"You challenge yourself to be able to do this," she said, "but you never sit still."