Peggy Agouris selected as William & Mary provost
Dean of GMU College of Science to be W&M's chief academic officer
Peggy Agouris, an award-winning scholar and researcher and dean of the College of Science at George Mason University, has been selected as William & Mary's sixth provost, President Katherine A. Rowe announced today.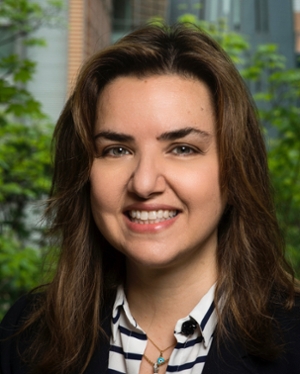 Agouris, who as dean currently oversees 4,000 students, almost 700 faculty and staff and an annual budget of more than $80 million, will begin at William & Mary July 1, pending approval this week from the W&M Board of Visitors. She succeeds Michael R. Halleran, who last September announced his intention to step down this summer after a decade in the role. A classical studies scholar focused on Greek tragedy, Halleran will return to teaching and remain on the W&M faculty.
Agouris, who also serves as the director of the Center for Earth Observing and Space Research at George Mason, is an expert in digital image processing and analysis, remote sensing and geospatial information systems. A National Science Foundation CAREER award winner, Agouris has received more than $35 million in external research funding, including grants from the National Science Foundation, NASA and the National Geospatial Intelligence Agency.
"Dr. Agouris brings an enormous breadth of experience as a teacher, scholar, researcher and administrator. She will be an extraordinary provost, and we are thrilled to welcome her to campus," said Rowe.
"I am also grateful for the hard work of the search committee, led by Vice Provost Ann Marie Stock," added Rowe, referring to the committee of faculty, staff, student and alumni representatives who began a national search last fall. "Finding a worthy successor to Provost Halleran was a daunting assignment. In Dr. Agouris, we have someone who will value and advance the university's core academic mission while also partnering with this community to navigate a rapidly changing landscape in higher education. She is an ideal choice."
The provost is the chief academic officer for the university and oversees Arts & Sciences, the Raymond A. Mason School of Business, the William & Mary School of Education, William & Mary Law School, the William & Mary School of Marine Science at the Virginia Institute of Marine Science and University Libraries. In addition to the six deans, direct reports to the provost currently include several centers and institutes, associate provosts for various academic and administrative operations and the vice provosts for academic and faculty affairs, international affairs and research.
The provost is responsible for all academic and research programs, academic budgets, institutional planning and space allocation. Working with the deans, the provost leads academic planning, curricular and educational policy matters, including new programs and faculty development. Jointly with the senior vice president for finance and administration, the provost is responsible for budget planning and priorities, including resource allocation and expenditures. In addition, the provost will play a leading role in the university's strategic planning efforts, scheduled to launch this August.
"It is an exciting time to join William & Mary," Agouris said, "and I very much look forward to working with President Rowe and so many talented colleagues on campus to generate the community's roadmap for William & Mary's exceptional and distinctive educational experience. My leadership approach has always been driven by vision and method and is firmly based on transparency and accountability.
"It is humbling to be selected to now lead the academic side of such an extraordinary institution, committed as it is to teaching and research equally, and whose talented faculty are matched only by the strength of their students. My family and I are excited to join the William & Mary community."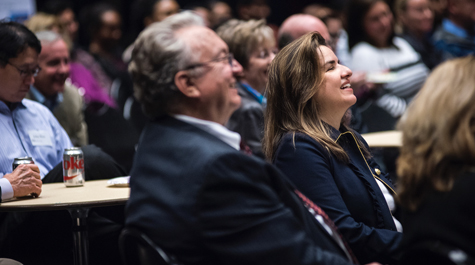 Agouris, who has been dean of the College of Science at George Mason since 2013, oversees one of the university's most active research units, which has consistently been Mason's top-earning source of external research funds for many years. Last year alone, the College of Science accounted for almost a third of George Mason's total research expenditures and nearly half of its indirect revenue. The college includes 13 departments and programs, 20 research centers and nearly 80 degree programs. In 2017, the College of Science led George Mason's largest research proposal to date, which was funded by the federal government with an initial budget of $40 million. During her tenure as dean, Agouris was also credited with creating new cross-cutting academic programs, increasing the diversity of the faculty body by almost 40 percent and assembling a diverse leadership team for her college comprising more than 60 percent women and under-represented populations.  
In addition to securing major research grants and contracts, Agouris has been very engaged in the overall fundraising success of the university as an active participant in George Mason University's Faster Farther campaign, which has raised nearly $700 million. As dean, she led many alumni engagement and fundraising efforts, including in 2016 securing the College of Science's largest alumni gift (for student scholarships in environmental science and policy).
Stock, who chaired the search committee, said Agouris shares William & Mary's commitment to institutional change that advances core mission and values. She added that Agouris also has demonstrated impressive success as an academic leader, including teaming with others in the institution to recruit and retain excellent faculty, collaborating with colleagues to advance diversity, equality and inclusion, and leading efforts to advance organizational sustainability.
"We are confident that she will be an extraordinary partner for our president, board and senior leadership in guiding our university into the future," Stock said.
Prior to her work as dean of the college, Agouris served as chair of the Department of Geography and Geoinformation Science from 2008 to 2013. She has been a professor of remote sensing and spatial informatics at the university since 2007.
As a scholar, Agouris has published more than 100 papers in numerous academic outlets, with more than 2,600 citations to date.
"Peggy Agouris will be an excellent provost for William & Mary," Halleran said. "Her rich experience, energy and collaborative instincts will serve her well in this role, and I am fully confident that she will be highly successful in helping to advance William & Mary's distinctive educational excellence."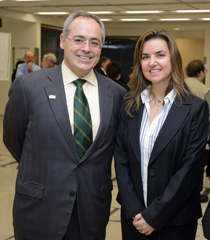 Added Jack Martin, president of the William & Mary Faculty Assembly, "The faculty of William & Mary welcome Dr. Agouris to campus. She brings impressive experience to the role and we are eager to work with her in many important areas, including improving and diversifying the faculty and future strategic planning. We look to Dr. Agouris to take us to the next level."
Before joining the faculty of George Mason, Agouris worked for the University of Maine as an assistant professor and then associate professor in the now named School of Computing and Information Science. Before that, she was a postdoctoral research associate for the Department of Civil, Environmental and Geomatic Engineering with the Swiss Federal Institute of Technology in Zurich, Switzerland. She has also worked with the private sector, serving as principal investigator on technology transfer projects.
Agouris has served on the boards for multiple organizations, including the Sentara Northern Virginia Medical Center, the U.S. Geospatial Intelligence Foundation, the Intelligence National Security Alliance and the George Mason University Foundation.
She has also served with many community and university groups, including the Mason-Northern Virginia Chamber of Commerce Partnership, the University Consortium for Geographic Information Science, the Smithsonian-Mason School of Conservation Executive Committee and the Advisory Board of the Interdisciplinary Program in Neuroscience, where she has been chair since 2015.
"Peggy leaves a bigger, stronger and more diverse College of Science than what she found when she assumed its deanship," said George Mason President Ángel Cabrera. "She has been firmly committed to shared governance and improved faculty engagement. She has helped strengthen the college's research portfolio and has contributed to George Mason University reaching the top tier among research universities in the Carnegie classification.
"We are grateful for her leadership and look forward to working with her in her new capacity to continue to advance higher education in the Commonwealth."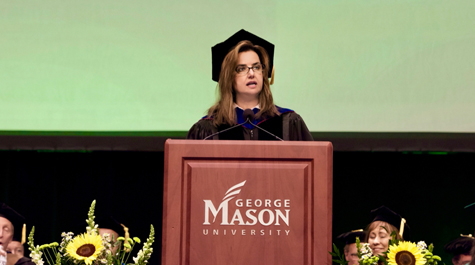 Her many accolades include the Dean's Award of Excellence and Early Career Research Award, both from the College of Engineering at the University of Maine; the Duane C. Brown Junior Award from The Ohio State University; the Leica Photogrammetric Award; and the VI Talbert Abrams Award for best journal paper of the year from the American Society for Photogrammetry and Remote Sensing.
Jennifer (J.J.) Wagner Davis, executive vice president and chief operating officer at the University of Virginia, worked closely with Agouris when she served as senior vice president for administration and finance at George Mason.
"Peggy is a superbly talented leader both in terms of her academic prowess and her interpersonal skills," Davis said. "She is one of the hardest working people I've ever known and she consistently empowers and mentors others. She is a true role model and I am excited to see her success as she brings her talents and skills to William & Mary." 
Originally from Athens, Greece, Agouris received her engineering degree from the National Technical University of Athens, and her master's and doctoral degrees from The Ohio State University. As an undergraduate, she also received a degree in classical music and piano from the Greek Conservatory. Agouris and her husband, Tony, teenage daughter, Chloe, and the family's two cats will reside in Williamsburg.