Lemon Project symposium focuses on 'Celebrating Legacies'
Continuing its powerful work in chronicling William & Mary's history, the Lemon Project hosted its ninth annual spring symposium, "Celebrating Legacies, Constructing Futures: Four Hundred Years of Black Community and Culture," on campus March 15-16.
Held at the School of Education, the two day-long symposium included a series of panels and speakers covering topics that touched on the 400th anniversary of Africans first reaching Virginia soil. A wide variety of activities, such as film screenings and lectures, provided students, faculty, staff and members of the community a chance to learn about Virginia's legacy with slaveholding and black civil rights.
One such discussion, "Preserving Boydton Institute: An African American School from Reconstruction into the Jim Crow Era," highlighted the Boydton Institute, a black school for higher education, adjacent to the original site of Randolph Macon College.
"The history of this place is so incredible," said Anne Keeling.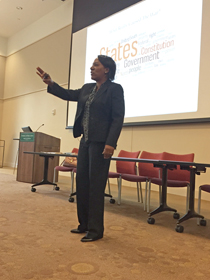 A historian of the now-decrepit building, Keeling touched on the history of the school, notable alumni and their achievements post-graduation. Faithe Norrell, a retired media specialist from Richmond Public Schools, discussed one such graduate: her grandfather, the Reverend Charles Satchell Morris, the first African-American principal of Boydton.
Keynote speaker Christy Coleman, chief executive officer of the American Civil War Museum in Richmond, took the stage Friday afternoon, capping off a day that began with the unveiling of a historical marker for the Bray School, an 18th-century school for free and enslaved black children.
With an introduction by W&M President Katherine A. Rowe, Coleman set the stage for the symposium's theme on legacy, preservation, dispelling myths and celebration.
"We are so proud of the way that the Lemon Project has created, via research and research collaboration, an incredibly innovative way to view new and fuller history," said Rowe.
Rowe lauded Coleman on her many achievements and her impact on telling history at its root: truthfully.
"She has taught us how to tell U.S. history better and more completely," said Rowe.
Coleman delivered her keynote address, "Reclaiming Narrative American Civil War," to a packed room in Matoaka Woods at the School of Education. She quickly dispelled myths about the causes of the American Civil War — cotton, economical advantages, government intervention — and pointed out that the South itself was divided on the topic of slavery.
"When we talk about Southern ambition, this is the part people rarely get," said Coleman.
She went on to say that memory and legacy give service to those whose lives were lost in this brutal part of American history.
"We have to deal with memory," she said.
Finally, Coleman spoke about her work with the American Civil War Museum in Richmond. In 2013, the museum joined with the Museum of the Confederacy, a contentious but revolutionary move in both the museum and Civil War discourse. Admittedly, Coleman said, it was not an easy transition, but part of the important work of honoring memory: to overcome the opinions and loyalties built by previous discourses and to unite under the common goal of telling the truth.