Zachary Clary '22 receives Harriett Pittard Beales Scholarship at William & Mary
Zachary Clary '22, a recent graduate of Brunswick Academy in Lawrenceville, Virginia, is the recipient of the Harriett Pittard Beales Scholarship at William & Mary for the 2018-2019 academic year. The merit-based scholarship provides approximately $4,000 in tuition assistance to an incoming first-year student from South Central Virginia.

"It is a wonderful honor to be offered this scholarship," said Clary. An outstanding student, Clary graduated last month as the valedictorian of his class with a 4.19 GPA.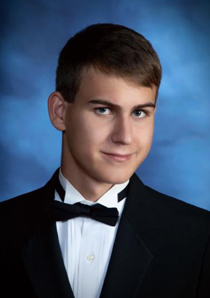 In addition to a number of subject-specific awards for high achievement from his school, he received the Woodman of the World American History Award, the Daughters of the American Revolution (DAR) history award and the President's Award for Educational Excellence.

"I've always loved history," said Clary who plans to major in the subject at William & Mary. "I also like to argue, so my plan is to attend law school and become a defense attorney. In my opinion, William & Mary has the best history and law programs in the state so there is no better place for me."

In addition to an excellent academic record, Clary boasts an extensive list of extracurricular accomplishments. He participated in the Virginia Boys State program, served as president of his school's tech crew and the Hi-Y Club, and became captain of his school's Scholastic Bowl team, as well as a member of the National Honor Society. He also served as a tutor, senior class reporter, Latin Club officer and group leader at his church's Vacation Bible School, all while holding down a part-time job as a cashier at Food Lion.

"I have a lot of family who went to the University of Virginia, but my history teacher suggested I check out William & Mary," said Clary. "I went for a tour and instantly loved it. I knew that's where I wanted to be. I was surprised and excited when I got in. Now I am so grateful to have this scholarship to help with the cost."

The Beales Scholarship honors the late Harriett Pittard Beales '34, a former high school teacher and lifelong community servant from Boydton, Virginia. Created as a tribute to a shared love for William & Mary, the scholarship was established in 1984 by Harriett's sons, Walter R. Beales III '66, an attorney in Boydton, and Randolph A. Beales '82, a judge on the Virginia Court of Appeals and former Virginia attorney general.

In the 34 years since its creation, the scholarship has helped dozens of students. Harriett enjoyed meeting many of the Beales Scholars before her death in August 2013, shortly after her 100th birthday. In establishing the scholarship, the family decided it was most important to help students during their first year.

"When our mother entered William & Mary as a freshman in 1930, she was just 17 years old. It was only 12 years after the school started accepting women," said Walter Beales. "She became active in student life resulting in her being elected vice-president of the Women's Student Government, president of the Women's Honor Council, and was the College's May Queen her senior year. Most importantly, she was humble and selfless and lived to help and serve others."

Recipients are chosen based on academic performance, extracurricular community activities and service, outstanding character, and other personal achievements. Students from the city of Emporia and 12 counties — Amelia, Appomattox, Brunswick, Buckingham, Charlotte, Cumberland, Greensville, Halifax, Lunenburg, Mecklenburg, Nottoway and Prince Edward — are considered for the award once they have been admitted to William & Mary.

"We see the scholarship as a recruiting tool to encourage outstanding students from this part of the state to attend William & Mary and we have continued my mother's tradition of meeting the scholarship recipients," said Beales. "Many stay in touch with us long after their freshman year. We have been invited to their graduations and weddings. It thrills us because we feel like we've really made a difference in their lives."

Clary can already attest to that.

"A William & Mary degree is outstanding and will go leaps and bounds toward getting me on the right track for a good career," said Clary. "This scholarship will take some of the pressure off the expenses so I can focus on my future success."

"One aspect that distinguishes William & Mary is the diversity and caliber of our alumni," said Matthew T. Lambert '99, vice president for university advancement. "There is no question that scholarships help the university attract and empower top-tier students to achieve their dream of a world-class higher education and to prepare for lives and careers of distinction. In turn, the lives of our students and their families are forever changed. This is why scholarships are the highest priority in the university's For the Bold campaign, and support from generous friends like Randy and Walter Beales is crucial to this effort. We are grateful to them for helping to bring talented students from Southside to William & Mary."
Established in 1693, William & Mary is truly the Alma Mater of the Nation, educating generations of leaders and public servants. Graduates go on to work for major corporations making the university's network and proud legacy of countless achievements even stronger. With 6,285 undergraduate and 2,455 graduate students enrolled, the university was rated the No. 6 public institution in the nation by U.S. News and World Report's 2017 rankings.