Rosie Cheng '20 is acing life
The following story originally appeared in the spring 2018 issue of the W&M Alumni Magazine - Ed.
How do you connect with someone when there are 8,500 miles and an ocean between you? You send them a Facebook message. That is how Rosie Cheng '20, from Auckland, New Zealand, ended up playing tennis at William & Mary.  
Cheng always knew she wanted to come to the U.S. to play college tennis, but W&M wasn't on her radar until Assistant Coach Jesse Medvene-Collins reached out to her on Facebook.
"Jesse messaged me out of the blue one day and said 'Hey, I don't know if you have thought about applying to William & Mary, but you should come for a visit.' So I decided to come," Cheng says. "I toured a few other schools in America, but W&M felt the most like home. I liked the team atmosphere and the coaches were great."
With financial assistance from a scholarship, Cheng made the long trek from New Zealand to Williamsburg to start her college tennis career. Though it was a long journey, it was one that Cheng had been preparing for from a young age.
"I was about 5 or 6 and my uncle gave me a tennis racket for my birthday," Cheng says. "He would take me down to the local club and we would hit a few balls and 5-year-old me thought it was so much fun. I started practicing 30 minutes a week with little kids. When I was 7 or 8, I started thinking about tennis seriously and realized that I wanted to play college tennis in America."
Though Cheng was ready to play tennis in the U.S., adjusting to a new country as well as navigating her freshman year as a student-athlete was a new challenge.
"Freshman year I didn't have the best time management," Cheng says. "I was fresh out of high school and had no idea what to expect. I quickly had to learn how to manage my time and be more productive than I was in high school. I also needed to remind myself to take time off, so I wouldn't get too stressed out. I've truly learned to find a balance in my life between academics and tennis."
Juggling both, Cheng aced every challenge that arose at William & Mary. She credits her team with helping her find balance. Before coming to William & Mary, Cheng had always focused on improving her own skills on and off the court.
"We don't have a system of college tennis in New Zealand," Cheng says. "I played on my high school's team, but it is not the same atmosphere. Tennis can be a very individual sport and I would often travel around alone playing for myself. It's amazing to be on a team where all of our goals are the same and we are all aiming for the same things. Knowing I have a whole team as a support system is such a great feeling."
Cheng has turned to her team on many occasions.
"When I first moved to America, I was very homesick," Cheng says. "Our team is so close, and I had their support from the beginning. They helped me through the transition coming from New Zealand to America and I am grateful for that."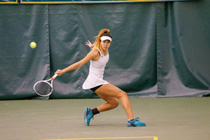 With the support of her teammates and a dedication to the sport, Cheng has thrived. As a sophomore, she has been ranked in the Oracle/ITA National Top 100 twice and is an ITA Scholar-Athlete. She is one of six W&M tennis players to be an ITA Academic Awards recipient. Off the court, Cheng recently earned admission to the Raymond A. Mason School of Business.
"I am very excited to be accepted into the business school," Cheng says. "I am hoping to major in finance because my mom teaches finance at a university in New Zealand. I always knew I wanted to get into the business school, even before I got to W&M, so it's such a relief to be accepted."
Cheng has already been exploring her interests in finance, serving as assistant chief marketing officer for Smart Women Securities, a not-for-profit organization that focuses on educating collegiate women in finance and investing.
Cheng also works as the lead on the tennis team on community outreach, hoping to engage with the larger Williamsburg community.
"I try to plan events that get us off the court and working with others. We play tennis with people with intellectual disabilities, and we recently helped organize an Easter egg hunt for children. We truly believe in giving back to the community."
Having already accomplished so much in tennis and her academics in just two short years at William & Mary, Cheng is ready to take her tennis to the next level.
"I want to continue growing," Cheng says. "One of our goals as a team is to cultivate ourselves and develop the team. I want to continue focusing on not just pushing myself but helping  others to be their best as well."
"Coaches Tyler and Jesse have taught me so much since I have come to W&M," Cheng says. "I have seen my tennis skills mature and I can't wait to see what the next two years bring!"