William & Mary signs historic partnership agreement with Cuban community media organization
In June, William & Mary signed a partnership agreement with Television Serrana (TVS), in conjunction with the Cuban Institute of Radio and Television (ICRT), becoming the first U.S. university to have a formal agreement with the Cuban community media organization.
The partnership is an important step in solidifying the relationship between the university and TVS. Since 2016, W&M Libraries has been working with TVS to collect, preserve and make accessible materials related to Cuban film and art.
"This is the culmination of relationship building and collaboration that has existed for many years, and we're thrilled to be able to assist TVS and learn from them," said Dean of University Libraries Carrie Cooper. "This project enhances student learning and adheres to the principles of open access, exposing significant cultural content."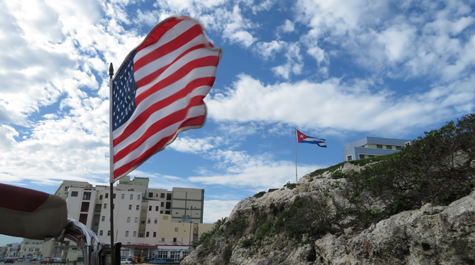 The agreement allows TVS and W&M to create programs and collections that support teaching, research, preservation and distribution of Cuban film and art. Activities may include joint research projects, student and staff exchange programs, workshops and exhibits.
"This is a really important moment for us, since we are a small community project embedded in the middle of the Sierra Maestra mountains," said Carlos Rodríguez of TVS. "We never thought we would be able to achieve a dream like this. We are now partners with a public university in the Unites States, and given the current situation of our two countries, I think it is more significant."
Ann Marie Stock, vice provost for academic and faculty affairs and professor of Hispanic studies and film and media studies, and Tami Back, director of communications and strategic planning for W&M Libraries, traveled to Varadero, Cuba, in June for the official signing, and to present a session on the Libraries' Cuban Media Project at the International Convention of Radio and Television.
"Teaming up with Carlos to present our joint projects to a Cuban audience was fantastic, particularly because of how warmly the Cuban public received our work, but signing the agreement was a once-in-a-lifetime experience," said Stock. "I think what excites me most, having worked for three decades as a scholar of Cuban film and media, is the opportunity to develop this project into an institutional initiative that is exploring and advancing digital humanities possibilities."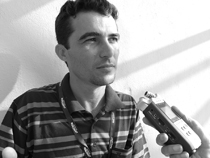 The project initially arose from a dilemma facing many professors and researchers – how to organize and archive materials compiled over decades of research.
"I was faced with the challenge of organizing and preserving materials I had created and collected over the years, including print and digital files," Stock said. "While co-teaching a course with Troy Davis, director of Swem Library's media center, I turned to him for advice. I knew the library had expertise to solve this problem."
However, it soon became clear that the effort had the potential to evolve into something much bigger.
"Once we looked over Ann Marie's materials, we saw the amazing potential of the collection to contribute to research and scholarship related to Cuba," said Cooper. "The conversation soon shifted from preservation to collection building, student learning, open access and much more."
The project, which is supported through public and private funds, has grown into a multi-faceted digital humanities initiative, featuring original collections, courses, exhibits, an open digital repository, visiting artist programs, student research trips, and faculty and staff exchanges.
As it has grown, funding needs have increased to achieve the project's ambitious goals. Another benefit of having an official agreement is that it provides W&M a unique opportunity to seek foundation funding.
"In order to get funding to develop digital humanities scholarship and other international initiatives, it's helpful to have a formal agreement," said Stock. "Anyone can say they are interested in doing a certain kind of work, but we have evidence of our seriousness. We can demonstrate with this agreement that we've laid the groundwork, that we have invested the years that it takes -- particularly with Cuba -- to develop the relationships and the trust that are essential for moving forward together. I think it has positioned us really uniquely among U.S. universities."
Next up for the project is the launch of a bilingual website, an exhibit celebrating the work of Cuban women artists and filmmakers, and a visit by Cuban art curator Agapito Martínez for the 2019 W&M Global Film Festival.
For more information on the Cuban Media Project, visit
libraries.wm.edu
.