To serve and connect: OCE hosts community engagement dinner
William & Mary's Office of Community Engagement worked some magic with a community dinner in the Sunken Garden Monday night.
Not the Harry Potter kind, but the kind that happens "when you get good people together over food and share common values and common commitments," said Melody Porter, director of the OCE.
The people: members of the campus and local communities who are involved in service work in a variety of ways, from running nonprofits to taking students on service-learning trips. The common goal: helping William & Mary develop its civic action plan and, at the same time, building relationships in order to discover new ways to support one another.
"So I encourage you tonight to let the magic flow," Porter told the attendees.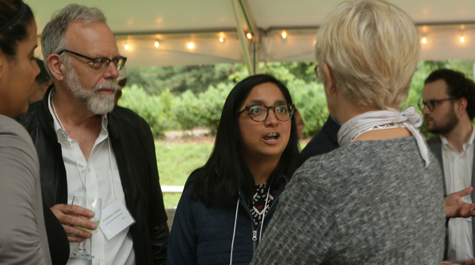 The Civic Action Plan process began last October when W&M signed Campus Compact's 30th anniversary statement of presidents and chancellors, affirming their commitment to developing community partnerships and preparing students to be engaged citizens.
The planning process is an effort to develop a strategic approach to that commitment, according to Porter. Nineteen campus and community members have been part of the core group developing that plan.
"We realized that we wanted to learn from a lot more people who were not around our table already, so we've been doing one-on-one interviews and conversations with folks from campus and the community, and we decided that it would be an even greater opportunity to get them talking to each other and see what ideas might come up as they share what they're passionate about, what they're committed to and what they dream William & Mary can do for Williamsburg and beyond," she said, adding that the community dinner seemed to be a great opportunity to make that happen.
Despite the rain, dozens of people — from faculty, staff and students to local nonprofit, faith and government leaders — made their way to a tent in the Sunken Garden for the event. The atmosphere was soon buzzing with conversation as old friends greeted one another and new connections were made, with business cards flowing freely.
Allison Brody, director of community resources and engagement for the Williamsburg Health Foundation, has long worked with the OCE and says it's a "fantastic resource," noting that she lists it at the top of a resources page on the foundation's website. However, she hoped to learn even more about them — and others — during the event.
"I'm anxious to learn more about whatever they do because what they do, they do so well," she said. "They are an outstanding community partner, and they truly bridge the town/gown and community. I wish we had an organization like that when I was in college. I'm a big fan."
Rev. Cathy Boyd, who has been rector at St. Martin's Episcopal Church for about a year now, said that the church's outreach focus has been changing.
"We were founded with the intention of doing outreach, so we're very outreach-oriented, very much project-oriented, but we're starting to want to kind of gather that into a cohesive mission and not just do projects all over the place," she said.
Her goal for the night, she said, was to "read nametags" and meet all of the people she has heard about in the local community engagement community.
"If we're going to heal our world, it's going to be relationships that do it, not projects, and so I'm really tickled to have the chance to make relationships," she said. "That's what's going to do it for us."
Marley Brown '21, a student who helped with the event, is involved in Aim 4 and Branch Out through W&M's Office of Community Engagement. Although she works closely with the local nonprofit Avalon, she said she hoped to hear others' perspectives on what's changing in the Williamsburg community.
"I feel like there are definitely a lot of rising community issues, so I know that through the OCE I've learned a lot about this community and I'm interested in hearing maybe some new things that I don't already know," she said.
Over dinner, W&M President Taylor Reveley discussed America's history of community engagement and volunteerism and emphasized the importance of higher education in creating engaged citizens.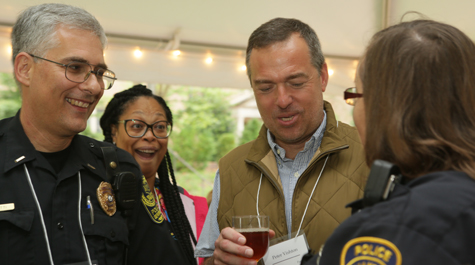 "It's absolutely vital that we keep encouraging one another to get involved, to learn how to make a difference for the better, to learn how to lead and to get on with doing it, starting in the communities where we live," he said.
Following Reveley's remarks, the attendees at each table — guided by a facilitator —discussed a list of questions, including what ideas and hopes for the Williamsburg community they share and what areas W&M should prioritize in terms of community engagement. The ideas were written on butcher paper, post-it notes and notepads, which were collected at the end of the night.
Those thoughts will all be discussed by the group working on the civic action plan, which Porter says will be done by the end of 2018.
As Porter watched the magic of the evening unfold, she said she hoped that by the end of the night, the working group would know more about what's already happening and what needs to happen in the local community.
"Also, I hope that a lot of connections happen that I never even know about because people are just being themselves and talking about what they do and ways they can support each other better and build relationships that go on from here," she said.