'The time was right,' Laycock says of plan to retire
Jimmye Laycock wanted to make it clear. Yes, he had talked to a few confidants in recent days, not about whether he should retire as William & Mary's head football coach, but how he should do it, "doing it right," as he put it.
"It was my decision," Laycock '70 told the crowd of friends, administrators and players gathered inside the suites at Zable Stadium on Monday. The coach frequently fought back tears during an emotional press conference that was punctuated by two long standing ovations, one when the 70-year-old coach walked into the room, the other when he stepped away from the podium after about 40 minutes.
"It was time for me," he said. "Those who know me know I don't do things on the spur of the moment. I gave it a lot of thought. It had to come to an end sooner or later. I'm healthy. There's nothing I know of that's health-related. I wanted to be able to leave, be healthy and be able to do a lot of things later on."
Laycock said he finalized his decision during the summer and broke it to Athletics Director Samantha Huge last week. Over the weekend, he told his family members, who he says were surprised but supportive. On Sunday afternoon, he called together his coaching staff then, finally, revealed his decision to the team at an 8 p.m. meeting.
"Definitely surprising, it caught us all off guard," said receiver Jack Armstrong '19. "Coach has been here for a long time and for him to hang it up was going to be big news whenever he announced it. I think he handled it the right way. It took a little time for it to settle in, but as he said so many times today we're focused on this season and getting it done, just like any other year."
Monday's first summer practice kick-started Laycock's 39th year as Tribe football coach. He is the school's all-time leader with 245 victories, has taken his teams to five conference titles and 24 winning seasons. His uninterrupted tenure at a Division school is third-longest in history, behind only Joe Paterno of Penn State and Amos Alonzo Stagg of the University of Chicago. W&M has been nationally ranked 13 times during his career.
"I really didn't think I'd be coaching until I was 70," Laycock said, chuckling. "But I have been, and I am. It's just kind of a lot of things. It just felt like it was the right time to do it."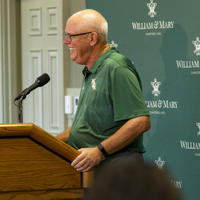 Asked about the timing of the announcement, Laycock said he did it out of concern for the university.
"I want to be fair to William & Mary," he said. "I think it's the right thing to do for the school. I think it's the right thing to do for the program for everybody involved. It just felt right to get it out. If I had made the decision (to wait), I couldn't live with myself through the season. I couldn't have done that.
"Another reason is that the season's hard. You make a decision after the season, and it's maybe not the right decision. It's based on emotion and things like that. That's another reason I wanted to do it now."
Laycock said he wants nothing to do with picking his successor.
"We've got some great guys on our staff, some great guys who've come through here," he said. "But that's up to Samantha and the powers that be at William & Mary."
Laycock said he talked to the team about keeping its focus this season on the things they need to do to be successful, not on trying to send him out on a high note.
"Actually, the players stood up and cheered when I told them I was leaving; they were glad," he joked, then turned serious. "It was very hard. I told them last night that this isn't about me. I'm not doing this as a ploy to motivate the players to have a great year. I want them to have a great year for themselves. I want them to achieve success for themselves. It's all about them, the coaches, working hard and having success for themselves. It's not 'win one for me,' I'm not into that at all."
Like many people nearing retirement, Laycock said he has wondered how he will fill the time. However, it appears he has a couple of ideas.
"I have three things I've always said I wanted to do when I finish coaching: go to the beach in August, I want to tailgate in September and I want to play golf in October. I'm a man of simple means. But I've never been to a tailgate, never been to a beach in August and I've never played golf in October."
It won't be long now before he gets that opportunity.