W&M Football Coach Jimmye Laycock's last game is Nov. 17
After 39 seasons as head coach of the William & Mary football program, Jimmye Laycock will coach his final game when the Tribe hosts long-time rival Richmond for Senior Day at Zable Stadium on Nov. 17 at 2 p.m. In addition to honoring W&M's seniors prior to kickoff, more than 300 of Laycock's former players and teammates will be recognized on the field during a halftime ceremony. This story has been updated and modified from its original August version. - Ed.
Jimmye Laycock, legendary head football coach at William & Mary, announced in August that he would retire at the conclusion of the 2018 season.
 
That time is at hand.

With only Richmond left on the schedule, Laycock will finish his 39th season at the helm of William & Mary with the distinction of having been the nation's longest-tenured Division I head football coach. With 249 victories, Laycock enters the game tied with former W&M Coach Lou Holtz — whom Laycock played for here — for 24th on the NCAA's all-time list.
"Coaching the William & Mary program is a tremendous honor," Laycock said at his August press conference. "I have always taken a great deal of pride in leading my alma mater and have been grateful for the opportunity to work with such tremendous young men. Any success we have had is shared among all the great assistant coaches and the thousands of outstanding student-athletes who have come through our program.

"This was obviously a difficult decision, but the time was right to make this announcement."
Far and away W&M's all-time leader in career wins, Laycock's remarkable career accomplishments include 10 NCAA playoff appearances, five conference titles and 24 winning seasons. Additionally, he guided W&M to the NCAA Football Championship Subdivision (FCS) semifinals twice – 2004 and 2009 – and finished a season with a national ranking 13 different times. In 2010, W&M climbed all the way to No. 1 during the regular season before earning the No. 2 seed in the NCAA FCS Playoffs.

When Laycock returned to coach his alma mater prior to the 1980 season, he inherited a program that had won six or more games in a season just four times over the previous 25 years. Few could have predicted that W&M would produce nearly five times that number of seven-win seasons over the next 38 seasons.
As the architect of what is easily the most extended run of excellence in W&M's 125-year football history, Laycock has never compromised academic standards for athletic success. Since 2004, his program has earned outstanding academic achievement recognition from the NCAA seven times. 
"It is rare that one individual can have such a monumental impact on a university, but Coach Laycock has left an indelible mark on William & Mary," said Tribe Director of Athletics Samantha K. Huge. "We owe a tremendous debt of gratitude to Coach, and his tenure stands as a testament to the principle of Tribe Athletics, that excellence in athletics and academics go hand in hand. The contributions of his former players to their communities and to the world are his greatest legacy."
In 2008, W&M recognized Laycock's tremendous impact by naming the program's $11 million football center in his honor during a ceremony that featured more than 500 friends and alumni of the program.
The accumulated successes, both on and off the field, have led to an era of unprecedented interest and support for the football program. In addition to the building of the Laycock Football Center, a $28 million Zable Stadium renovation project was completed during the summer of 2016. The rejuvenated stadium, which includes an upper deck, luxury suites and a spacious state-of-the-art press box, provides an enhanced game day experience for both student-athletes as well as for Tribe alumni and supporters.
"From his days as a player through his decades coaching the Tribe, Jimmye Laycock has been a seminal figure for William & Mary Athletics and in the life of the community," said President Katherine A. Rowe. "His teams' successes on the field and his full embrace of the university's rigor forged an enduring legacy of winning with integrity. All of us at William & Mary are grateful to Coach Laycock for his lifelong dedication to his alma mater."
Individual accomplishments under Laycock have been plentiful, as he has helped 45 players earn 125 All-America honors at W&M and coached 11 Academic All-Americans. Former quarterback Lang Campbell is one of the most honored, as the 2004 season saw him earn the prestigious Walter Payton Award, given annually to the nation's top offensive player in the FCS ranks. Campbell also was a consensus first team All-American, as well as the Atlantic 10's Offensive Player of the Year and Scholar-Athlete of the Year.

With seven all-league recognitions in 2017, the Tribe has produced an astounding 255 all-conference selections since 1993. Former All-America running back Jonathan Grimes accounted for 11 of those honors, as he became the most decorated player in conference history in 2011. Former All-America cornerback B.W. Webb nearly matched that figure when he finished his career in 2012 with nine postseason all-conference honors. Both Grimes and Webb went on to post successful professional careers in the National Football League.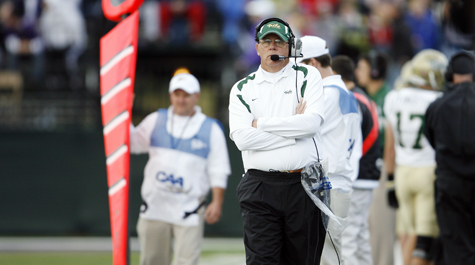 Overall, 40 former Tribe players have signed professional contracts in the NFL since Laycock took the helm in 1980. More impressively, the Tribe's six NFL draft picks since 2009 ranks second in the entire FCS and behind only Virginia and Virginia Tech in the Commonwealth. The Tribe is well represented in the pro ranks, with seven former William & Mary players on NFL rosters during the last year.
Laycock's connection with the NFL doesn't end there. His remarkable influence is also evident in his impressive and vast coaching tree that extends into the highest levels of football. Two of his former players are currently head coaches in the NFL – Mike Tomlin '95 (Pittsburgh Steelers) and Sean McDermott '98 (Buffalo Bills). Laycock's impressive coaching tree also includes current Atlanta Falcons head coach Dan Quinn, who served as an assistant on W&M's staff in 1994.
As a 1970 graduate of W&M, Laycock played football under two legends of the game. For three years, he learned the details under the watchful eyes of Marv Levy, the legendary former head coach of the Buffalo Bills. In his last season, Hall of Fame coach Lou Holtz schooled Laycock in the finer aspects of psyche and motivation. As a sophomore, Laycock was a starter in the defensive secondary, but was soon switched to quarterback.               
Laycock's first full-time coaching position came at The Citadel as the offensive backfield coach under ex-W&M assistant coach Bobby Ross, who went on to coach the NFL's San Diego Chargers and Detroit Lions. In 1975, Memphis State tabbed Laycock as its quarterbacks coach and he helped the Tigers to consecutive 7-4 records.                
In 1977, Laycock traveled to Clemson to serve as offensive coordinator for three years. During his tenure, he helped the Tigers fashion records of 8-3-1, 11-1 and 8-4. Clemson played bowl games in each season, defeating Ohio State 17-15 in the 1978 Gator Bowl.  Laycock coached two-time All-ACC performer Steve Fuller, a quarterback who later played in the NFL, and the late Dwight Clark, an All-Pro receiver for the San Francisco 49ers.
 A native Virginian, Laycock played football, basketball, baseball and golf at Loudoun Valley High School, where he won 12 letters. He has since been inducted into the school's Athletics Hall of Fame. Laycock was also inducted into the Hampton Roads Sports Hall of Fame in the fall of 2010.