At the symposium: Botany and the early American family
If Holly Gruntner had her way, the annals of American botany would look very different. 
"I stumbled upon this giant gap in the scholarship," said Gruntner, a second-year Ph.D. candidate in William & Mary's Department of History. "I asked, 'Where were the women in all of this?'"
Gruntner's research into the role of women and families in the development of botanical science in colonial America has earned her the Graduate Studies Advisory Board's prestigious "Excellence in Scholarship" award. She will receive the award and present her work on March 17 at William & Mary's 17th annual Graduate Research Symposium.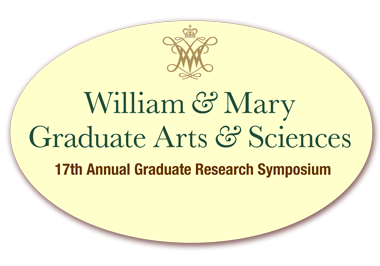 "My project will sketch the empty spaces," Gruntner wrote in her winning research proposal. "A son, paper propped on his knees capturing the likeness of curious specimens…a daughter gathering silkworms from the mulberry trees by the river. Enslaved men and women weeding in the garden rows. Our understanding of American botany is incomplete without the addition of these laborers."
Her project, titled "'Some People of Skil and Curiousity:' Botany and the Early American Family," illustrates the roles that wives, children and slaves played in building the compendium of early American botany. Gruntner's advisor is Karin Wulf, director of the Omohundro Institute of Early American History and Culture at William & Mary.
"I'd like to think that at the heart of my research is a desire to get away from the 'great white men' narrative of history that, unfortunately, many historians still find themselves lodged in today," Gruntner said. "It is so important to be thinking about who else was there and who else was contributing to these great accomplishments."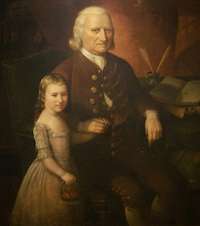 Gruntner's award-winning research focuses on the families of three famous 18th century botanists: Cadwallader Colden, William Byrd II and John Bartram. All three men were widely recognized in their time – and today – for their contributions to science. Gruntner combed through the botanists' personal papers, correspondence and scientific records to learn about the forgotten people who made their work possible.  
Bartram corresponded with Benjamin Franklin and garnered a reputation among London's scholarly elite as a self-made, hard-scrapping American farmer savant. Like Franklin, Bartram's public image was more myth than reality, Gruntner explained.
Bartram's family played a significant role in maintaining his gardens at their home in Philadelphia. His letters reveal the extent of the family's involvement. His daughter studied silkworms, while his wife conducted the family seed business while Bartram was away from home. His son took on botanical projects on behalf of his father. Bartram masked the extent to which he relied on enslaved labor, Gruntner said, which makes tracking their role in his accomplishments especially complicated.
"When we think about labor in early America," Gruntner said. "We have to understand the botanists weren't doing it alone."
Colden, on the other hand, treated his botanical knowledge as a form of intellectual inheritance, Gruntner explained. He was determined to pass on his scientific legacy to his children and grandchildren. His daughter Jane would later be called America's first female botanist, Gruntner said. 
Byrd was a wealthy Virginia planter who would come to be known at the founder of Richmond. Unlike Colden and Bartram, Byrd depicted himself as a "king of an obedient serfdom," Gruntner said. In his letters and diaries, Byrd describes himself as the ruler of a pastoral land.
"Like one of the patriarchs," he wrote in 1726. "I have my flocks and my herd, my bond-men and bond-women."
Records show Byrd relied on enslaved men and women to help him with scientific collecting and cataloging. Gruntner believes he also appropriated much of their botanical expertise.
"Enslaved people had their own botanical knowledge," she said. "They knew about what kinds of plants you could use for medicinal purposes. It's logical that their owners would have drawn upon that knowledge whenever possible."
Appropriation was central to the advent of botanical science in America, Gruntner said. Botanists in the 18th century regularly shipped specimens back to the Royal Society in London as a means of emphasizing Britain's dominance over America, she said.
"A lot of historians have talked about how botanists were part of the imperial project in colonial America," Gruntner said, "and the extent to which gathering knowledge about the plants and animals in the New World was part of claiming that world."
Gruntner said the award helps validate a growing field of scholarship working to track down history's unheard voices. She says botanists were not unique in relying on family and slave labor to conduct scientific work.
"This is something true about a lot of professions," Gruntner said. "There are people in the background who do a lot of the work and never get credited."