22nd annual Road to Richmond: Putting knowledge into practice
On the eve of William & Mary's first day of spring semester classes, 24 students — outfitted in business attire and eager grins — huddled together on the Sadler Terrace, ardently awaiting their bus ride to Virginia's state capitol.
Jan. 16 marked the university's 22nd annual Road to Richmond, an event sponsored by the W&M President's Office and the Office of Government Relations as an opportunity for students to act as lobbyists, engaging with members of the General Assembly and the governor's office during the legislative session.
Encouragement from W&M's president
Upon arrival to Richmond, the students were met with supportive remarks from W&M President Taylor Reveley.
"It really makes a difference when a good cohort of smart, friendly and winsome William & Mary students walk around the halls of the General Assembly talking to senators and governors," he said.
He reassured students about the nature of their anticipated conversations, noting there was no exact script when it came to speaking with representatives.
"In my experience, it doesn't matter so much what you're talking about; it's that you are a living incarnation of William & Mary," he said "When you go around, don't worry unduly about a message, just be yourselves and have fun while you're doing it."
Reveley encouraged students to thank the legislators for their contributions to campus infrastructure, including the fourth building of the Integrated Science Center, the future arts complex and recent renovations to Tucker and Tyler halls.
He also proposed that students advocate for their own desires, asking, "How many of you all lived your freshman year in an un-air-conditioned dorm?" Met with laughs from his audience, he remarked: "Well, we'd like more state money to get on with that."
Reveley concluded his speech with final statements of motivation: "We need a lot more people just like you all to get seriously interested in the political process. As I say relentlessly, it has been a very long time since we've had a president of the United States from William & Mary – much too long. One of you seriously needs to get on the stick!"
Lobbying in practice
The young lobbyists departed from their meeting with the university's president equipped with the names of legislators, a map of what was repeatedly termed a "maze" of a building and a fervor to urge their causes. I facilitated the elected speakers who were able to visit with the students during the day. For the next two hours, students would travel in groups to speak with Virginia delegates and senators and adorn their offices with bags of green and gold M&Ms.
Acting Director of Government Relations Colin Smolinsky joined the students as they made their way through the building and helped them with talking points before their meetings with members of the General Assembly and staff.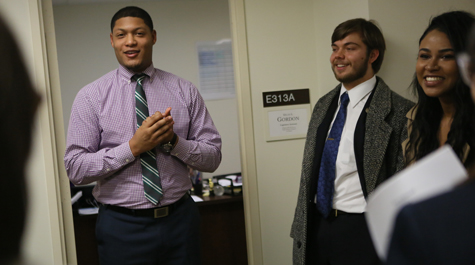 Aleyah Goell '20 spoke with her own representative, Del. Roxann L. Robinson (R-27th).  
"I've always wanted to meet my representative," Goell said "They always say, 'Meet your reps,' but I never knew what I would say. It wasn't what I expected. I was surprised by how interested she was in us and our lives as students; she even asked us what we wanted to do when we graduated."
Goell also shared inspiration she gleaned from hearing about Robinson's and other politicians' indirect career paths.
"I was interested in her story," she said "She didn't graduate with a set path — like 'I want to go to law school' or 'I want to be a politician.' That was a theme of the day.
"Not everyone started out saying, 'I want to be a delegate in the House of Delegates.' Ralph Northam was a physician, and now he is a governor. It was reassuring to know you don't need to have everything set out for you."
For Raquel Wilson '19, meeting Robinson provided her with a more nuanced understanding of in-class material. Wilson's experience engaging with legislators "humanized them," she said.
"Being able to just go to the General Assembly and walk around freely was not something that I imagined being able to do," Wilson said. "It's one thing to learn about it in the classroom, but it's another thing to really see it and do it."
Mia Harris '18, who served as the organizing manager for the event, echoed this sentiment, acknowledging the significance of putting knowledge to practice.
"Actually sitting in the representatives' offices and taking face-to-face gives a detailed outlook on the legislative process," she said. "Speaking directly to the representatives and their assistants also enables students to ask certain questions and receive answers they may not be able to receive any other way."
After several diligent hours of conversation, the young lobbyists reconvened to find delegates Mike Mullin (D-93rd) and Tim Hugo '86 (R-40th) and Sen. Monty Mason '89 (D-1st) eager to deliberate about policy and answer potential questions. The students did not leave their advocacy-driven spirit on the General Assembly floors. For the next hour, they examined and questioned the representatives' perspectives on various issues, including state plans for addressing DACA, on-campus sexual violence, the in-state to out-of-state student ratio and student loan debt.
Evening celebration and special guest
The day concluded with an evening reception at the Library of Virginia.
"It is so important to come out to the General Assembly, especially early on like this, and have students sit down and tell the story of William & Mary to the legislators," said Ralph Northam, Virginia's new governor. "We appreciate you being here."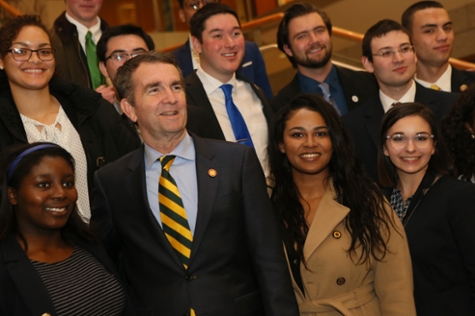 Northam expressed gratitude to the university and outlined how his priority to invest in higher education would advance broader goals in the state of Virginia.
"In order to attract talent to a college like William & Mary, it takes investment. And when we have good talent, talent attracts other talent," said Northam. "With talent comes research and development opportunities, grant opportunities and business opportunities. And that's what drives the economy. This is a very important mission for all of us."
After speaking, Northam gathered the students for a photo. Afterward, he turned around to the huddle of William & Mary undergraduates and answered questions, accepted comments and gave personal remarks.
"He was really concerned about our opinion, and he wanted our input," said Goell. "It was thoughtful."
Northam will speak at W&M on Feb. 9 as part of the university's Charter Day ceremony.