W&M community offers input on search for next president
William & Mary's next president must understand and promote the value of diversity across all levels of the community, appreciate and enhance the school's unprecedented rise as a research university and acknowledge and advance W&M's unique tradition of student-faculty relationships outside of the classroom.
Those were just a few of the recurring suggestions coming from three forums — for staff, faculty and students, respectively — held on campus April 19. In attendance were members of the W&M Board of Visitors and the recently appointed presidential search committee, chaired by Vice Rector H. Thomas Watkins III '74.
The committee held its first meeting Friday afternoon. Earlier in the day, the Board of Visitors unanimously approved the charge to the search committee, which includes recommending not more than three finalists to the Board no later than Feb. 15, 2018. The charge also states "the Board desires a diverse candidate pool that reflects a full array of backgrounds and perspectives from which to select the next president."
William & Mary is starting a national search for the university's 28th president after President Taylor Reveley announced earlier this month he will retire effective June 30, 2018, after 10 years in the job.
Diversity was among the chief topics that arose at Wednesday's forums.  
"We are at a little less than 50 percent of the level of faculty diversity compared to all other universities of this type," said one faculty member. "If the College is going to move in the direction of opening our students up so they can understand themselves in the world … that should include its growth, its increased sophistication. That will require minority faculty, programs that are diverse, international, graduate programs. They all go together."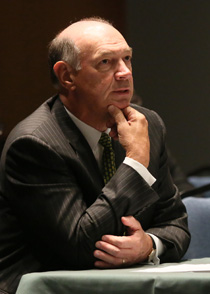 Added a student: "Diversity is important now more than ever. Students of color need to feel like the culture and diversity they bring to their university is valued, because it's only through diversity that you have different thoughts and opinions at a university."
Numerous staff members at the morning forum also talked about the importance of diversity.
"I believe that it's very important that the search committee establish criteria in ways that we can really measure the progress and what a potential president has done in their tenure elsewhere — or in their other positions that they've had — to see concrete evidence of what they have done to push diversity and inclusion forward," said one staff member.
Another theme mentioned by staffers several times was the importance of the new president's fundraising skills, as well as his or her ability to prudently manage the limited resources that the university already has.
A student cited the cost to attend William & Mary as an obstacle to a more socioeconomically diverse community. That should be a top priority for the future president, the student said.
"William & Mary is a public university, which means we should be committed to remaining affordable and accessible to not just people with very deep pockets but all people who are able to demonstrate the ability to excel at a college like this," said the student.
One faculty member pointed to William & Mary's rise in ranking as a public research university and implored the search committee to find someone with the type of vision to continue that ascendance.
"What was it that made it possible for us to move ahead? That was the importance of graduate work," the faculty member said. "The ideal president will be one who has the vision to see what the future [will bring], who will protect and nurture all of our graduate programs, and also has the vision to look ahead to see what are the opportunities as knowledge changes, as universities change and be able to position William & Mary as a first-class research university."
Another faculty member said he hoped the new president would be mindful of what separates William & Mary from schools throughout the nation.
"What makes William & Mary different is what goes on between faculty and students outside the classroom," he said. "That is a very unique recipe we have managed to concoct. … I want this new president to understand that it's really the engine that makes William & Mary run. ... That interaction comes in many forms; we call some of it 'undergraduate research.'"
At Friday's first official meeting, the committee agreed to hire a national search firm. The committee also received an overview of the Virginia Freedom of Information Act from Ron Forehand, senior assistant attorney general, and a presentation from Chon Glover, William & Mary's chief diversity officer, on Equal Employment Opportunity.
The search committee will gather additional feedback from campus and from alumni and volunteer leadership groups throughout the early summer. After obtaining preliminary input, the committee will draft a position description and leadership profile that will guide the process for the search firm that will be selected this summer. The university's goal is to conduct interviews with candidates in the fall and recommend finalists to the Board by early 2018 so that the 28th president can be selected by early spring.
During the campus forums, Watkins and Rector Todd Stottlemyer said they anticipate the committee will gather a lot of feedback and information from the campus community in the coming months. But the final stages of the search will remain confidential.
Watkins explained, according to research on current presidential search best practices, keeping candidate identities confidential helps attract the highest quality and most diverse pool of candidates.
"In an effort to get the best possible candidates, we envision a process that is highly open in the early phase when we're listening, when we're understanding what you believe we need to have," Watkins said.
"But as we move to talk with specific candidates, we envision a more confidential process. With the objective not of closing anything, but with the objective of seeking to attract candidates that are of the of the absolute highest quality, many of whom might well be in positions now, possibly at other higher education institutions, that they're not interested in having the information that they may be interviewing here known."
A website for the search has been launched. Feedback can be submitted using the online form there or by emailing presidentialsearch@wm.edu.